German slut (Robert)
Age: 27
tumblr: http://spermamuelleimer.tumblr.com/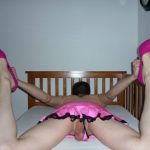 Related Articles
/ / / Exposed

---

Alot of you are into posting your exposure forms in the chat. There is a couple of problems with...

/ / / Exposed

---

Please spread my picture so I will have no place to hide when I am confronted by people who...

/ / / Exposed

---

hi all, my name is terry keighly and i am a humiliation slut, needing to be exposed all over...

/ / / Exposed

---

I am an admitted faggot. I dress like a sissy fag and enjoy pleasing men and swallowing cum. ...

/ / / Diapers, Exposed

---

Weed plus exposure sites equal DUMB

/ / / Exposed

---

Admin edit: This is a pretty lame exposure, but with the lack of new fags exposing them selfs i'm...
Exposure Search
Categories