I love public exposure and upload my most disgusting adventures on various video sites so that everyone can see what a disgusting pig I am and hopefully find a person who would enjoy ruining me  completely by exposing and pushing me even further into the extremes of (self)degredation and humiliation.
http://thisvid.com/members/52558/public_videos/
Expose me and my videos to the world. [contact-form-7 404 "Not Found"]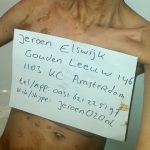 I am a 36 year old asian slave in Amsterdam. I am looking for a Master that enjoys degrading, humiliating and abusing his slave and whoo will enjoy it if I feel miserable. I am looking for a Master to live (in) with, to eat His shit and work for him as slave, whore and in any other way my Master demands. I was born to be disgusting, to be nothing but filth and deserve no respect or compassion. If i become useless to my Master i hope my Master will sell me or dispose of me anyway he sees fit.