Real Name: Bob Budenbender
City: Los Angeles, California
DOB: 06/14/1966
Height: 186 cm
Weight: 81 kg
Dick/cock: 17.78 cm uc
Phone: 323-621-8164
skype: bob.budenbender
flickr:   https://www.flickr.com/photos/[email protected]/
Twitter:  https://twitter.com/rawboyslv1
Tumblr  www.rawboyslv.tumblr.com
xHamster: https://xhamster.com/users/bobbslv
Exposed Faggots: http://exposedfaggots.com/members/rawboyslv
scatboi:  https://www.scatboi.com/members/rawpig
Email: [email protected]
I Bob Budenbender, agree to following terms:
I am a loser bitch asshole, shit eating, cumdump, fist hole, faggot pig and I agree and beg
to be exposed and fucked up more and more all over the web! Faggot fuck pig toilet needs to get used and ruined; so please SIRS spreading its photos and information of this sick fucker everywhere. FAGGOTS' TOTAL PUBLIC EXPOSURE AND DEGRADATION no way to go back, to control or to stop it. Help this filthy nasty stupid pathetic faggot to be exposed and fucked up more and more all, blackmail this pig, am begging to be used and photographed and videoed being used by master/alpha studs! Out and ruin me, spreading my pictures everywhere!
I agree without any conditions that any photograph, posters, and personal details of me can and will be made available for the public domain.
I also agree and understand without any conditions that any photographs, videos, and personal details of me can be copied, posted and spread on any website, forum, blog or any other places.  This also includes public exposure in real life and commercial use.
I also state that it is my wish to be spread, exposed, and outed with no limitation, both online and public areas.
I understand that my reputation will be tarnished and may be permanently destroyed once this form is completed and made available on the Internet.
My decision is final and cannot be reversed. All my media belongs in the public domain and I withhold all rights for them, meaning I can't claim any private ownership if the exposer wishes to use my porn photographs, videos and my personal details.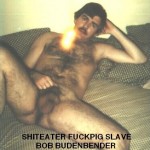 FAG NAME IS BOB BUDENBENDER AND I'M A PIG FAG 6'1, 180 LBS, BROWN, BLUE, 7″ UNCUT COCK, BIG BUTT AND GOOD HOLE FOR ALL SORTS OF USE, BIG MOUTH TO TAKE COCKMEAT DEEP AND BE THROAT FUCKED, PISS DRINKER, SPIT, SNOT, SLIME, NAME IS BOB BUDENBENDER AND THE IS A TOTAL USE AS A FAG SLAVE. FULLY TRAINED FAGGOT SLAVE BEGGING RAW FUCKING AND TOTAL FUCKIN USE, TO BE BRED AND SEEDED, I TAKE ALL COCKS AND CUMLOADS UP MY ASSHOLE OR DOWN MY THROAT. AM POZ BUT BEG AND NEED MORE FUCKIN POZ LOADS, PLEASE USE THIS PIG FAG AND FUCK ME FULL. FIST ME OPEN REAL WIDE, PUNCH FIST FUCK PIG, MAKE FAGS HOLE HUGE AND GAPING AND FEED ME EVERYTHING FROM YOUR SHITHOLE/ASSHOLE. I EAT IT ALL AND BEG FOR IT, SHIT, PISS, SPIT, AM FULLY EXPERIENCED AND READY AND HAVE BEEN ORDERED BY STUD WHO HAVE USED ME TO SEEK MORE AND MORE USE TO BE WHORED OUT AND USED ON CAM.PLEASE USE THE FAG PIG BRUTAL ROUGH USE ONLY ALPHA MASTERS KNOW HOW TO DISH. PIG FAG SLAVE FOR TOTAL SUBMISSION.