This is Justin. I'd say Justin is a fag like me, but that would be a lie. I may be a fag in need of exposure and humiliation, but Justin out right begged to be exposed everywhere. He begged to be exposed by another worthless fag. He's so low, he even sees me as a superior. Sad. Who do you think is the bigger fag between us?
Please follow and like us: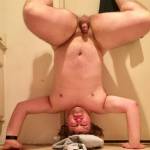 I am a small dick fag who loves gaining weight and being humiliated.