Fatsmalldickfag, AKA gainerboy85. A true faggot with a tiny little thingy and a growing gut and tits. And what's worse? I can't help sharing humiliating pics of my shame all over the internet. Please further my humiliation and expose me everywhere.
Please follow and like us: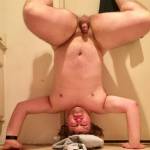 I am a small dick fag who loves gaining weight and being humiliated.