Fatsmalldickfag was ordered to expose its piggy body and worthless innie dick in a series of humiliating dares and post them where they could be seen and shared. Repost this fag and make it really feel the humiliation. And don't forget to email and share your thoughts and orders at [email protected] or @gainerboy85.
Please follow and like us: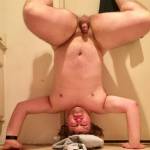 I am a small dick fag who loves gaining weight and being humiliated.