French fag slave Victor Ceccaci total exposure
I am also known as pouffiasse75 (bitch75)
I am a french fag slave, 58 yo, 1,70m, 75 kg, blue eyes, little useless cock 
Now cock and cum addict, I suck all the cocks and allways swallow cum or get facial
my cunt ass is available for everyone to be fucked, stretched and definitively ruined
All my pics and vids are public domain, so please repost me everywhere !!!
Ask me more pics or vids: [email protected]
http://fr.xhamster.com/user/pouffiasse75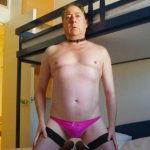 French fag slave since more than 10 years.
I live in Paris – France
58 yo, 1,70m 75 kg, blue eyes, brown hair
Need to be humiliated and used as a cumtrash, spit target and urinal by all.
Not allowed to use my little clitty, except for piss and wank.
Mouth tongue and cunt ass are available for everyone.