Been sucking cock, swallowing cum, taking cock both condomed and bare up his huge puckered asshole for decades. Even spent a bit of time out in the barn with ponies back in the day.The folks would use nudity for punishment, and the old man figured our cloths interfered with the message when he would take his belt to us.
Was outed at work once when he posted a want ad for a man to spank him, but has generally remained in the closet for co-workers and friends. But in his private life, he is on a constant search for cock, and kink of the most hardcore kind. Thousands have seen him naked on cam, coming on cam, being fucked on cam and more, but few know who this preverted old faggot is. Known as "Doc" Hufford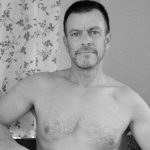 Born in the hills of Appalachia, I was odd from the beginning. In school, I was called a sissy. I want to jack off with guys, to suck guys dicks, and to get fucked up the ass. But except for the jacking off, I hid that. Now, years later I have become sort of an anal skank who goes nuts with a cock up my fuck-worn asshole.