show less
show more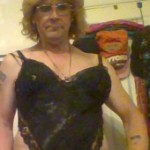 @dougielee
Rank: Newbie fag
My Achievements:







Friday's 1/17 is my 57 birthday, and all I want is to have somebody come, and visit me here in Hopkinsville. Ky. for the day. I fucking know that's an extreme request for a Crossdressing, Cock Sucking, Gay, Sissy Fag like myself, especially being stuck here in this backwards, way behind the times that the rest of this country is living in, but […]
View
Base
Name

Douglas Sajdyk
Personality Type
Address

1514 west 7th St. Hopkinsville, Ky. Kentucky 42240, US
Skype

None
Yahoo

Douglas Sajdyk
About me

I'm a everyday sissy crossdressing Transsexual, and I only want to be with men after over 32 years of being married to a wonderful ex wife.
Facebook

Deana Saxon
Email address