I was bored, so I through a few handfuls of ice into my diaper.  I could only take it for about 5 minutes before I had to change my diaper.  By then, my little peepee shrunk down to being just a clit.  It was so sore that I couldn't play with it or get hard.  I put a double diaper on, and it stayed cold for quite a while!  I just wish I could make it permanently this small and useless!
Please follow and like us: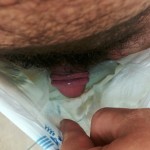 Diapering wearing fag in Worcester, MA , seeking humiliation, exposure, and general help losing my inhibitions and dignity.