Back when I was young, my dad would sometimes take a belt to me, often at mom's instance. Occasionally, he would put it off to the weekend, and then after having several beers tell me to "Get your clothes off" and bend me over a chair, or kneel me on the couch, or just have me bend over and grab my ankles an proceed to give me a heavy belting in front of my brothers and mother. That continued after puberty, for I became too big for mom to whip. The humiliation of being the oldest and forced to strip in front of everyone, and then end up crying and begging was something I never lost.
When I hit my 30s, I started finding men who would strip me naked and humiliate me before, and while whipping me with a belt, paddle, birch, or a cane. Just like dad did. The ost humiliating was when I placed an add and photo seeking such a man to beat my ass until I cried was discovered by a co-worker who proceeded to spread it around the office.
I have been whipped by many men, and fucked by many more, so just seeing my naked, beaten ass in private probably is not a rare thing. But having people see me naked like that and learn of my perversions in public is more embarrassing and humiliating.
Now I am in Japan.
Dave H.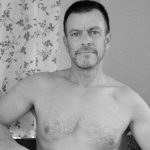 Born in the hills of Appalachia, I was odd from the beginning. In school, I was called a sissy. I want to jack off with guys, to suck guys dicks, and to get fucked up the ass. But except for the jacking off, I hid that. Now, years later I have become sort of an anal skank who goes nuts with a cock up my fuck-worn asshole.