SIRS, PIG FOR TOTAL USE
Please follow and like us: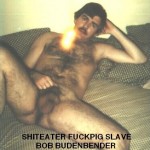 FAG NAME IS BOB BUDENBENDER AND I'M A PIG FAG 6'1, 180 LBS, BROWN, BLUE, 7″ UNCUT COCK, BIG BUTT AND GOOD HOLE FOR ALL SORTS OF USE, BIG MOUTH TO TAKE COCKMEAT DEEP AND BE THROAT FUCKED, PISS DRINKER, SPIT, SNOT, SLIME, NAME IS BOB BUDENBENDER AND THE IS A TOTAL USE AS A FAG SLAVE. FULLY TRAINED FAGGOT SLAVE BEGGING RAW FUCKING AND TOTAL FUCKIN USE, TO BE BRED AND SEEDED, I TAKE ALL COCKS AND CUMLOADS UP MY ASSHOLE OR DOWN MY THROAT. AM POZ BUT BEG AND NEED MORE FUCKIN POZ LOADS, PLEASE USE THIS PIG FAG AND FUCK ME FULL. FIST ME OPEN REAL WIDE, PUNCH FIST FUCK PIG, MAKE FAGS HOLE HUGE AND GAPING AND FEED ME EVERYTHING FROM YOUR SHITHOLE/ASSHOLE. I EAT IT ALL AND BEG FOR IT, SHIT, PISS, SPIT, AM FULLY EXPERIENCED AND READY AND HAVE BEEN ORDERED BY STUD WHO HAVE USED ME TO SEEK MORE AND MORE USE TO BE WHORED OUT AND USED ON CAM.PLEASE USE THE FAG PIG BRUTAL ROUGH USE ONLY ALPHA MASTERS KNOW HOW TO DISH. PIG FAG SLAVE FOR TOTAL SUBMISSION.