Sissy Slut Tom Chapman from Nottingham!
My sissy slut Tom Chapman stretching his little thong panties once again.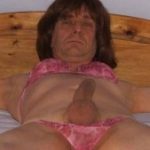 Related Articles
/ / / Drawing on self, Exposed

---

Which Mug should a Shitpig Buy to take shitty selfies?

/ / / Exposed

---

/ / / Exposed

---

Slut paula grateful to be used and humiliated as Master's sub sissy slave, received face slapping, hard caning's, riding...

/ / / Exposed

---

This pathetic sissy whore LOVES humiliation and exposure. Its useless locked cock drips every time he is used.lets make...

/ / / Exposed

---

A long time ago a man made me realize I am a pain slut. I get so fucking aroused...

/ / / Exposed

---

ALL OF JAMES HAHNENBERG'S FAMILY AND FRIENDS WAITING TO SEE HIM LIVE AS THE SISSY FAGGOT LOSER HE IS!  Add...

/ / / Exposed

---

This fag loves to expose himself he says: I would like a master who will give me dares, humiliating...
Exposure Search
Categories