Hi im Zoey. What do you think???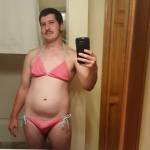 Related Articles
/ / / Exposed

---

This faggot's name is Bobby Watson. It's address is 290 1st Avenue, Greeley, Colorado, 80631. It's email address is...

/ / / Exposed

---

Proof of what a faggot this sissy is, you can see he truly loves to suck cock A little...

/ / / Exposed

---

Expose me all over the web to make it easier for me to become a sissy housewife im from...

/ / / Exposed, Looking for Master

---

here is tvsarahyours , here to entertain you

/ / / Exposed

---

After ending a bad relationship, I realised that I could never be in a healthy relationship with someone that...

/ / / Exposed

---

Many years ago i was trained to be a sissy by a TS Domme. What She created was amazing,...

/ / / Exposed

---

Jon Polasek is a sissy faggot This sissy faggot tries to hide behind its pretend name Janelle, but it...
Exposure Search
Categories