[vc_row inner_container="no" text_align="center" type="image" padding_top="30px" bg_image="2755″][vc_column][vc_row_inner][vc_column_inner][vc_column_text]
SISSY NINA
[/vc_column_text][vc_column_text lead="yes"]45 YEAR OLD CROSS DRESSING FAGGOT EXPOSED
Sissy Nina is a 45 yold faggot that lives in norway. You can contact this faggot the following ways.
email Roar369@yahoo.no, Skype: Roar369@yahoo.no. Twitter @sissyboynina1, kik Sissyme369.
Sissy Nina loves cross dressing, and ofcourse getting her asshole fucked! Just like any other faggot LMAO
As well as getting fucked, this cross dressing faggot craves blackmail, and being forced agaisnt her will!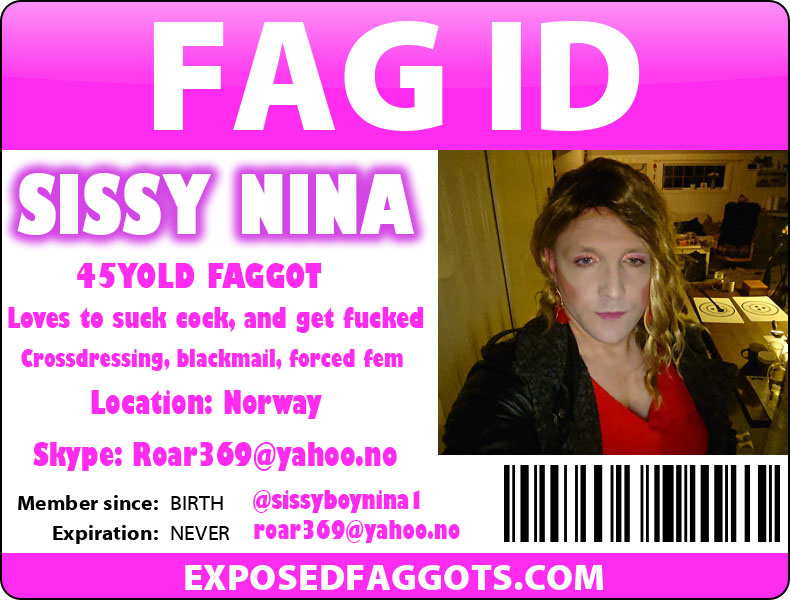 [/vc_column_text][/vc_column_inner][/vc_row_inner]
[vc_images_carousel images="175640,175645,175647,175641,175643,175644,175649,175651,175653,175658,175660,175655,175642″ img_size="400px" speed="1000″ autoplay="yes" animation="animate-when-almost-visible" min_items="1″ max_items="4″][/vc_column][/vc_row]