It has been years since I have worn a dress. The last time a fellow pervert wanted to see me wear red-toenail polish and a dress and do a slow strip-tease dance before putting on a dildo ride show for him. I feel that I am not at all passable, and that wearing a dress just makes me look like the ridiculous degraded faggot that I am.
So I am now choosing a new dress for a new photo. Should I wear heels? Hose? Toe-rings?What color nail polish? Can't wait!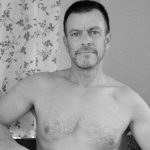 Born in the hills of Appalachia, I was odd from the beginning. In school, I was called a sissy. I want to jack off with guys, to suck guys dicks, and to get fucked up the ass. But except for the jacking off, I hid that. Now, years later I have become sort of an anal skank who goes nuts with a cock up my fuck-worn asshole.