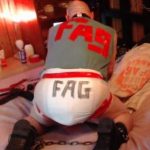 Use the dickless faggot
Servicing all horny men , stroking their hard cocks and blue balls, you want to drop your loads in a willing faggot hole and just leave. This Faggot's holes are here for you to use, walk-in, select the hole you want to insert your cock, pump out your loads of cam, drain your nuts and leave. This faggot will swallow or plug up it's ass hole , keeping those loads for the next horny guy's cock to use as lube.
Age – 53, Single -Unowned, Body – average
Height – 5'10", Weight – 200 lbs
It was a personal choice and NOT performed by a licensed doctor. I had a long time fantasy of being seen only as a bottom/submissive in bed but, prior to my penectomy I usually ended up being the fucker in bed. I also love chastity but, hated the need for a cock cage, a lock and a key holder. If I wore a chastity cage out and went home with someone they always asked me to remove the cage. My fantasy started out with the idea of getting castrated but, after researching the subject I realized castration did not fill my major goals. My goals were
1) Stay masculine: (the only way to stay masculine after castration is using hormone replacements)
2) Stay horny (after losing your balls you also lose your sex drive unless you use hormone replacements)
3) Not able to fuck (Castration keeps the cock and after taking hormones your cock will become erect and I know eunuchs that still fuck)
I stumbled across the penectomy subject when researching body mods and it also met all my goals. The problem was locating a person willing and able to do the procedure.I found that man back in 2004 and started corresponding with him and he scheduled a date to have the procedure done, without a second thought or hesitation I drove down and had the visual portion of my cock removed. He cut it off just below the skin, leaving a piss hole just over my balls where my cock use to be.
I am still able to orgasm but, it is rare and I never know when it will happen. A few men have made me orgasm while they fucked me but, mostly I will orgasm in my sleep during a sexual wet dream.
Question: So you just got rid of your dick? How does that work, how do you pee etc? I find you very fascinating
Answer: The original plan was to relocate the piss hole below and behind my balls. A problem occurred when the catheter was removed from the new hole, the hole closed up. So, for now i piss out where the original urethra ends at the surface of the skin above and in front of my balls.