Ad slave I am trained to suck cocks and balls of any guy, anywhere, anytime!
Everyone should know the cock & cum addict whore I am.
 [contact-form-7 404 "Not Found"] Please repost my fag pics !!!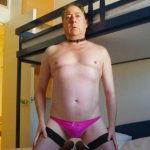 French fag slave since more than 10 years.
I live in Paris – France
58 yo, 1,70m 75 kg, blue eyes, brown hair
Need to be humiliated and used as a cumtrash, spit target and urinal by all.
Not allowed to use my little clitty, except for piss and wank.
Mouth tongue and cunt ass are available for everyone.