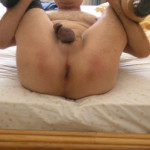 Related Articles
/ / / Exposed

---

Hey faggots, there are plenty of good reasons for fagtaxing all around the year. I'm gonna cashrape your fagwallets...

/ / / Exposed

---

My legal name is James Patrick Hudson, As a sissy I go by Tori Jessica Smith, I am a...

/ / / Exposed

---

NAME: PAUL FRANKLIN KNOLL CELL #: (504) 669-1479 EMAIL: [email protected] FB: https://www.facebook.com/ButcherOvBertok DOWNLOAD, REPOST, EXPOSE AND HUMILIATE THIS FAT...

/ / / Exposed

---

In this hot weather what better for a sissy faggot to go to the beach dressed in her best...

/ / / Exposed

---

It all startet when I stole my little sisters panties for the first time. I just was corious and...

/ / / Exposed

---

0/50 ratings valfir22Exposedfaggots.com best site out! I like this… Croosdressing into sexy woman linergie and have many good and...

/ / / Exposed

---

My name isChris Dorsey I'm 25 live in Lancaster PA [email protected] and I want to be an exposed internet...
Exposure Search
Categories