Diapersissyslave Vivian Tootinyforher is happy that she is a little white cuckold sissy faggot for Big Black Daddy Dicks and has to stay pussy free forever because she is a premature ejaculator and can't satisfy any women. She has a 2 inch micro clitty with useless balls and has to wear humiliating diapers and little baby girls clothes to make it very clear that she is a beta male looser.
Make sure I can't delete my exposure anymore. I beg you to save, share and reblog my pictures and videos. Ruin my normal life and make me become a cumslut and cockwhore. Use me as a sextoy for women and men. Degrade and humiliate me until I'm just an open fuckhole for everyone.
My clitty is too tiny to satisfy my wife and I can't get her pregnant. I looked always more like a girl. I was the first lover of my wife but as she watched a BBC porn she was knowing that real men have much more dick as I had.
From this moment on she regressed me into a BBC cuckold diaper sissy slave. I had to lick her pussy while wearing her underwear but was denied fucking her. She always complained that my tiny cock was slipping out of her cunt and called it names. After spurting my cum over her belly I had to clean her and she rode my face until she had her orgasm. I'm pussy free since 2004.
She gave me her birth control pills for over a year and as my tits started growing I had a vasectomy. Later I was put in chastity and she used smaller cages after some month. Now I just need a diaper to cover my useless 2 inch clitty. She humiliates me often by using marshmallow or banana enemas and catheter on me. She makes sure that I'm total incontinent and have to use my diapers until they leak with big hollow anal tunnel plugs.
I support the Modern Marriage BBC New World Order and will not only give my wife to all BBC Man but hope that you'll also take my useless holes for your pleasure! Feeling empty I pledge to give my sissy mouth and my sissy pussy to anyone.
I will be your cumslut and cockwhore whenever you want. I will never refuse any sexual order from you. I will immediately open my mouth to be an urinal. I will swallow anything directly from the source.
I will always take any and all BBC bareback and beg to have my sissy pussy bred by their superior Black seed. I will perform ass to mouth whenever you want it. I will, as well clean your magnificent Black Cock with my sissy mouth after you bred my sissy pussy.
As a BBC loving sissy I pledge to be photographed and videotaped by my BBC Man doing as I am told. I will post these pictures and videos online to show everyone who and what I am. As a BBC loving sissy I pledge to enjoy every degrading and humiliating thing my BBC Man says to me.
Diapersissyslave Vivian Tootinyforher is a very good example, how your little white cuckold sissy faggot with useless tiny clitty becomes a Big Black Cock addicted bimbo slut.
This fuckpig just watched education hypno videos for converting inferior whites into submissive slaves for the BBC NWO.
After hours of gooning to training videos, her brain is total blank and filled with pure sexual lust. She is an empty hole eager to give everything to be filled with Big Black Cock Cum and Piss.
Watch how she humiliates herself comparing her clitty and her BBC dildos. Her clitty is forced inside a chastity cage or humiliating diaper. While thinking of Big Black Cocks fucking her Mommy she has to force open her cunt with big plugs and fuck or deepthroat herself with BBC dildos. She has to mumble her fuckpig mantra until her too tiny clitty spurts its love juice. After her training she is a brainless open hole bimbo fuckpig for every BBC Daddy!
Remember the steps to expose a sissy forever!
1. Find pictures and videos
2. Save to disk and other media
3. Reblog, Repost, Spread to other places
4. Find more details and put in hashtags
5. Repeat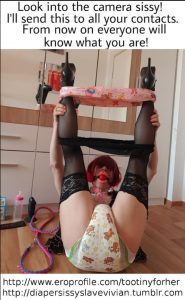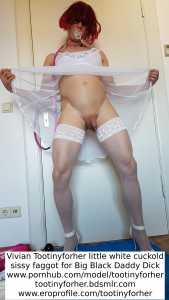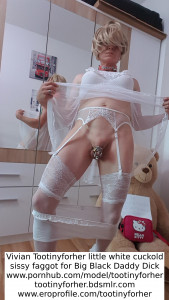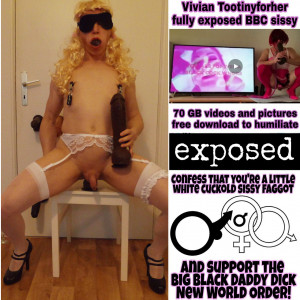 More of my exposing videos and pictures can be found here:
https://www.pornhub.com/model/tootinyforher
https://www.eroprofile.com/tootinyforher
https://tootinyforher.bdsmlr.com
https://exposedfaggots.com/members/tootinyforher
https://xhamster.com/users/tootinyforher
https://xvideos.com/profiles/tootinyforher
https://sissytootinyforher.tumblr.com
https://twitter.com/tootinyforher
https://de.mydirtyhobby.com/profil/13925821-tootinyforher
Now I just repeat my Fuckpig Mantra and let my mind pop away:
I was born a stupid cunt.
I'm a simple piece of fuckmeat.
Unless I'm serving, I am nothing.
I'm only filled with purpose when I'm filled with cock.
I'm a set of holes and a set of tits.
Only my body is of value, and it does not belong to me.
I'm only pretty when I'm covered in piss and cum.
I want dick in any of my holes at any time.
I will not say, 'No'. I'm a stupid set of fuck-holes.
I exist solely for the amusement and entertainment of you.
I'm a nasty, trashy fuck-slut.
I will expose myself whenever and wherever I am told to.
I am a receptacle for jizz. I am a cumdumpster.
I want to be bathed and filled with spunk.
I want all men to fill me with cock.
I will follow orders because I'm a dumb slut
and I don't know what's best for me.
I'm a cum-drinking whore.
My mouth's main purpose is not talking.
My mouth is for sucking dick, licking balls,
tonguing assholes and gargling spit, cum and piss.
I'm a nameless set of holes.
I'm a cumrag designed to be used and disposed of.
Please fuck my holes.
Thank you for wasting your time on this dumb slut.