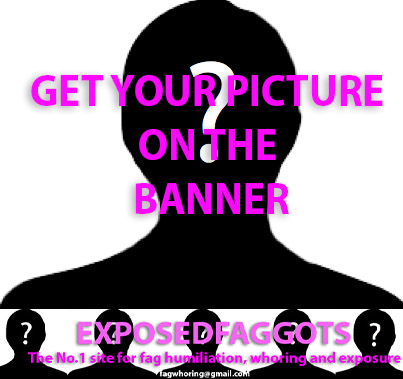 BANNER SPOTS UP FOR GRABS
(THESE ARE NOT FREE)
UPDATE 4 SPOT LEFT
Interested?
To submit your offer in USD
Send me a private message to my account on this site.
Click here to visit my profile
or
email me: fagwhoring@gmail.com
If you are interested, you must contact me using the above methods.
I will never call or text you. Beware of scammers pretending to be ADMIN
The exposure got too much for some fags on the banner, they paid the removal fee to leave the site. Now YOU have the chance to take their spot!
The banner is shown on every single page of the site. Having your fagface on the banner is the most exposure you can get!
Not only will people be seeing your picture when they first visit the site, but no matter what page they go to, whatever picture you select to have on the banner will be displayed!
This easily adds up to 35 000+ views each and every week!
There is four spots on the banner up for sale!
There is no set price for the spots. Instead I take the first DECENT offer someone gives me.
The spots with the site name covering it will be cheaper, then spots with nothing covering it.
As spots get sold, the price will go up. When there is one spot left, the price will be at it's highest, so get in quick!
Your image will stay on the banner for 12 months.
If you to pay to remove your account, you will also be removed from the banner
Payment methods accepted
transferwise.com
Amazon.com.au giftcards
bitcoin
100% of the money made from the banner spots goes back into the site.
Hosting fess, developer fees and general running costs of the site. This site is not possible without those who support it!
We appreciate all faggots who purchase Banner spots, popup spots, exposure packages and account upgrades!!