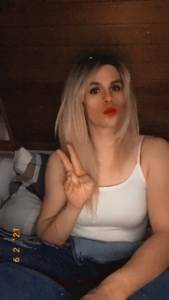 Hey and welcome, Daddy! 💞
First of all: I really take this serious so if you also will, continue. 🙂
If you are really interested in destroy a young guys (me) life, than don't hesitate to contact me! I will send you enough content to expose me and if you are the one I am looking for you will get my Facebook data and are going to expose me to all my real life contacts! 😍
Beside the fact I am craving for feeling like the faggot I want to be you successfully got everything to blame me and ruin my male persona Robin 😍
Now it's your turn Daddy, you can convince me sending you my Facebook data (Robins profile) and expose me there. Once u got my account u probably could make it your if you're smart and consequent. Punish me for being such a stupid faggot who forced him too deep in that amazing fetish.
Humiliate me, tell me everything u think about me choosing this stupid way and make me horny af and I will promise u will get my Facebook data. 💞
Contact me Add kik 'crossdressinghannah_' or my mobile '+00491602274006'. You find my Facebook on my profile and her, let's go, Daddy!
Robin Weis

Birthday: 16.01.1995

Location: 56218, Muelheim-Kaerlich, Rhineland-Palatinate, Germany

email: rweisyt@gmail.com

Mobile: +00491602274006
And daddy, once u destroyed and exposed me, please make me yours and own me. You wiill get everything u need to blackmail and treat me like u want. 🥰
In Love and stupidity,
Hannah 🔥