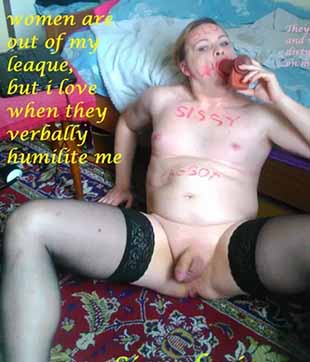 Yes i was here before…
not sure about  year i joined here… but i back…
Natural born sissy-existed in both versions(female/male)depends on my mood,as "female"version all knows me as dorisstar/sissydoris
sissy,fags,Losers alwas will come back for exposure…
many yers i've been pretending straight…every my relationships with women,all my past realtionships with women has ended in failure:(
Still struggling with my gay desires…
thinking of women all the time…
watching femdom movies with humiliation,exposure,cuckolding,sissyfication forced bi,turning gay and deep fantasisies of blackmailing game fantasy …
Many time watched straight porn or couples on webcams get me bored and frustrated…i had no sex with women from 2009,i feel so jealous of men fuck that women, licking her pussy, make her moaning, gosh….a loser confession……
but sometimes i'm so jealous of women aswell…how they feel during sex/orgasms/…how they are so powerfull to men,they make men to do what they want
but other site ….when i get chat searching online some domme women to belong to them…pushing me out ,because they want some money for fun and serve them,gosh… it makes me hate them!!!!
is that make me gay?
some part of me just like men handsome guys,nice,gently-not rude persons…just guys who have pretty big dick
i love them so much,but feel so weak to them(to weak to starting conversations with women and how keep it)
why i'm still lonely and alone? can't help myself and find women for love each others…
why Femdom movies and Dominant women turn me on so much as humiliation,exposure,sissification,feminisation,turning gay,etc.???
i don't know myself why i do all this things… and why i'm so internally torn….anybody can explain it?
My soul have aswell(depends of my mood) domimant nature
i make porn movies on request aswell…depends of my moods i do movies as sissy,gay,female,faggot,humiliations,domination,etc
you can find out about it on my pages

https://iwantclips.com/store/194601/doris_star
https://www.pornhub.com/model/dorisstar
Lately i discover that i not feel preasure for doing self femme look to enjoy all my fetishes like i did before with necessity feminine self, and doing all those humiliation-Loser things…Femdom clips helped me realised that i just become Loser cuck faggot gay-boi. It so confused 🙁
When realised i'm completly pussy free (2015 last time saw,lick,smell of pussy)
even not know how it started that i begin enjoy that humiliation videos about turning self gay with cuck fantasies and pussy free,censored/pixels (pussy,boobs) ,premature ejaculating and jerk off to it…
Now straight porn,even shemale porn is boring for me… sometimes even gay means nothing…
let me know what you think in comments or let's chat about it
don't forget visit my other exposure post as"official faggot" 
https://exposedfaggots.com/loserpiotr-piotr-skorzewski/
kiss