March 8–Women's Day–Valerys Favorite holiday!
———– ———– ———— ———— ————–
On this day, my Fuckers and lovers give me flowers and try their best to satisfy my lustful fucking holes!
they passionately lick my anal pussy, and when she large and worm from caresses tongue-peck their dicks
and give my fucking mouth fountains of sperm!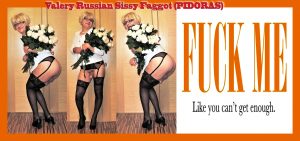 and Im VERY Happy at this day!