Paul Greenwell
The internet's most pathetic bimbo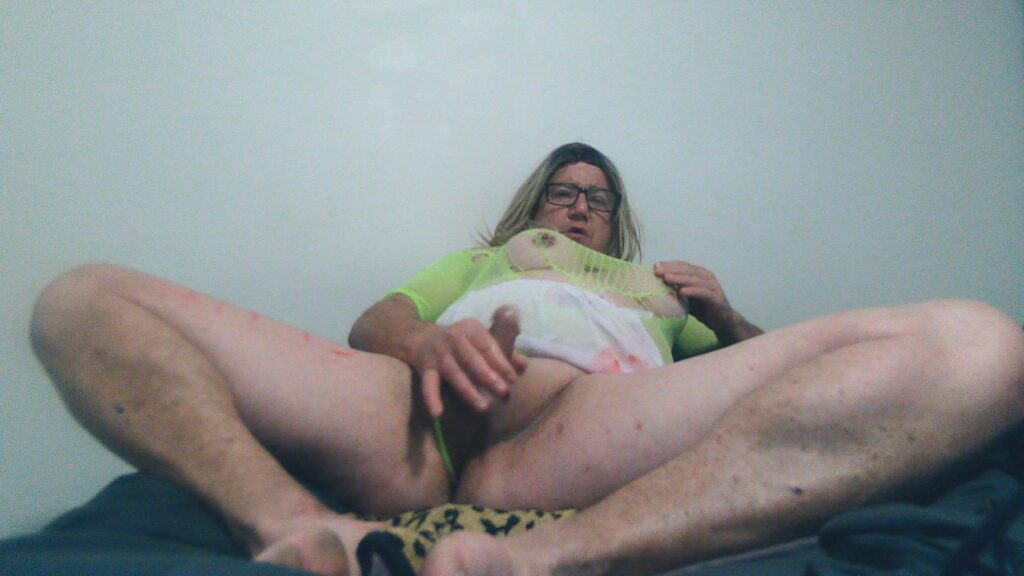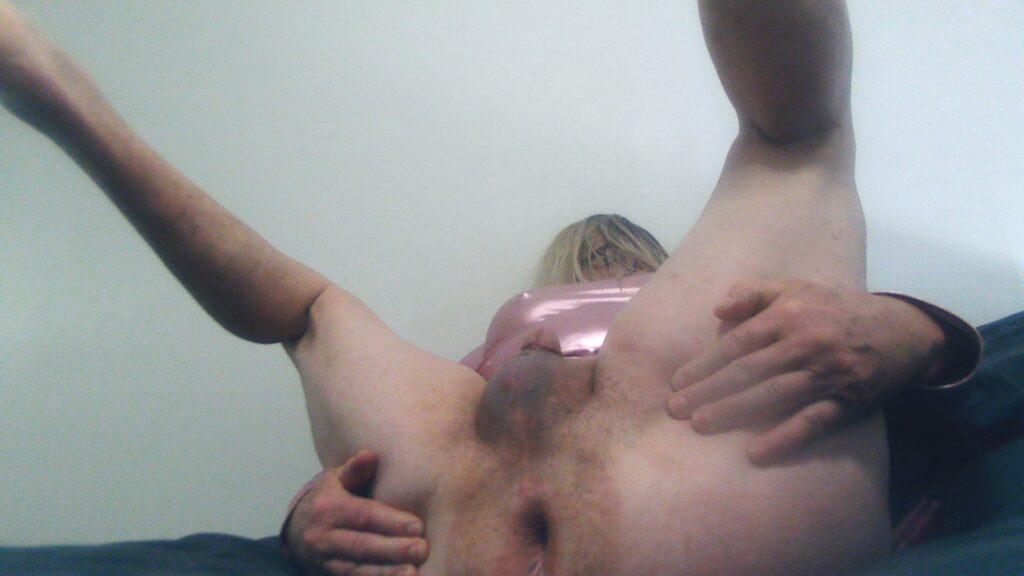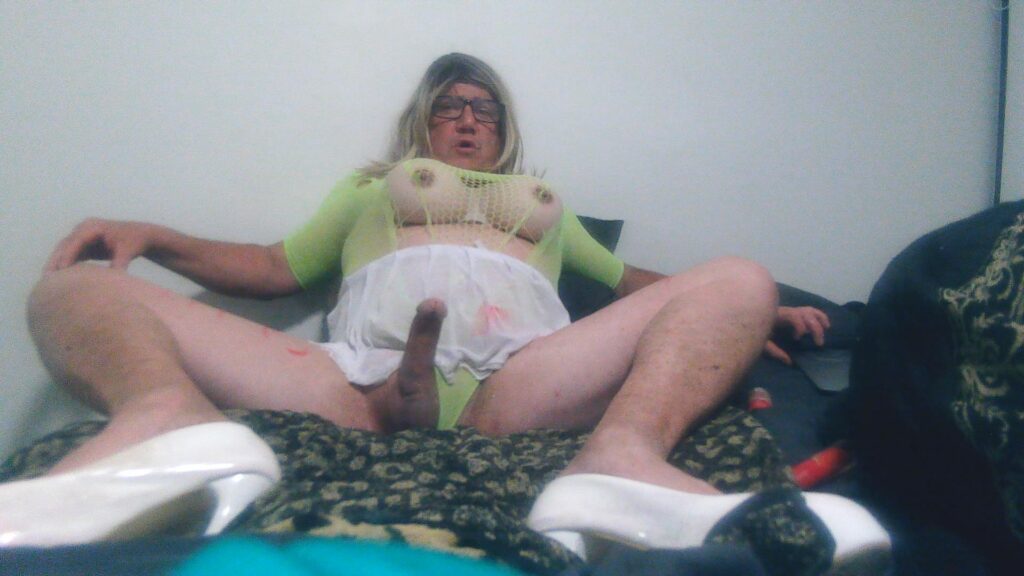 September 24th
LOL 8am this morning there is messages from loser paul Greenwell begging for more exposure, and sending me new pictures. He is so excited to have his new pictures posted LMAO is so pathetic. I was away at the time he was messaging me, and every few minutes the faggot would message me asking when I would be home… course hes horny and control himself the slut had already sent his fagtax in advance to make sure I ruined him as soon as I got home.  I knew this would happen, anytime he took a break even for just 48hours he would come back begging, craving for exposure more than ever, sending his fagtax as frequently as he could. His life is meaningless without exposure, anytime he tries to stop he feels empty inside. A true dedicated exposed faggot loser.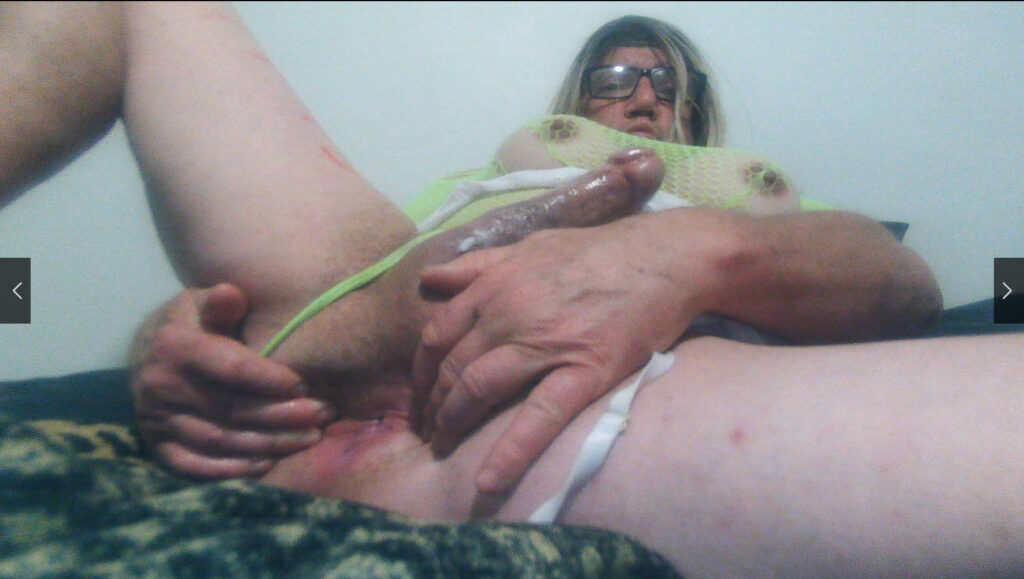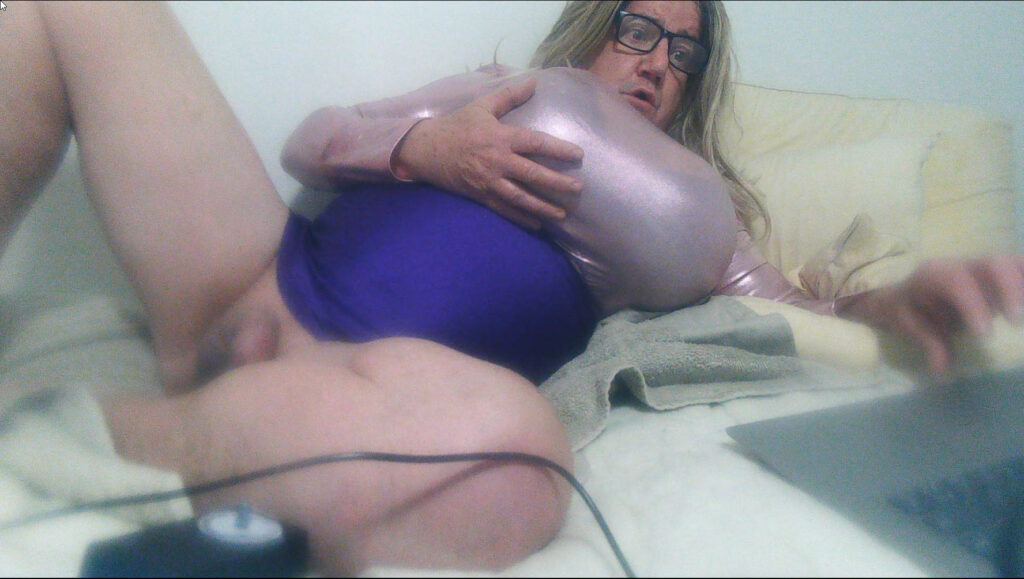 Septermber 22th.
Longest break Paul Greenwell has had in a while. This fag disrespected me, so I made it clear I was not going to expose him anymore unless he paid out the cunt in fagtax. He was already on the brink of losing the plot because of the daily updates, so this was a great opportunity for the faggot to step back and take a break.  Ofcourse the stupid pathetic loser didnt last long, he came back paying the amount I wanted plus more. Now hes back to begging to be ruined, this little break really truly showed him that everything I say is 100% true. He legit cannot live without exposure, when he tries to take a break he dosnt know what to do with himself, hes a loser that craves attention and the only attention he can get is by getting humiliated… but this faggot will take whatever he can get hes so pathetic LOL. Now its back to daily updates ruining this fag even more if thats even possible.
September 8th
Friday night, and guess what loser faggot Paul Greenwell is back begging for more exposure. I told him im logging off a 10 pm and to send to his fagtax and id expose him until I logged off. He ended up sending his fagtax at 9 45, meaning this faggot is paying to be exposed all of 15mins LOL. But thats more then enough for him, all he needs is a few minutes of attention and to see his pictures back first place on the homepage and thats enough to make him cum LOL. He tells me he needed a few days off, as the site was getting a bit much… the fag pretty much lasted 48hours before he was back begging for more. When he stays away from exposure hes lost, he dosnt know what to do and it quickly hits him that exposure is his life. The one thing that ruins him, is all he has LOL. Looking at google results of his site, and jerking his lil fag cock is all he lives for these days… well actually its all hes lived for, for the past 10 years LMAO. He is a deadset loser, and this will be what he does for the rest of his life. A true exposed faggot.
September 5th
Another day, another fagtax payment from paul greenwell begging for more exposure LOL, this fag can never get enough. Hes so pathetic. There is so many updates on his exposure im running out of things to say about the faggot, but that dosnt bother the faggot. In fact Paul Greenwell is so stupid all these updates could say the exact same thing and he would still pay for more LOL. As long as hes getting attention he dosnt care. Plus now he has his own dedicated exposure site back up these posts are a second thought to him, he only things about his site these days. Especially with the daily updates, every day he goes on the site seeing if it has been updated then he spends hours googling his name seeing what comes up jerking his dick. As soon as he cums reality hits him and he regrets the site, knowing how destroyed he is… but then being the faggot he is he starts jerking off again which makes him want more updates and more exposures. He cant stop jerking off long enough to get out of the loop, this is the fags life and all he lives for. A true exposure faggot and the reason hes the exposedfaggots.com mascot
August 31th
Even with his site backup, and daily updates activated its not enough. Sissy slut paul Greenwell is still paying daily for exposure! Having his site makes him so horny, he cant stop rubbing his clitty. I just made him a new banner for sissy-exposure.com, I know he will probably cum in 2minutes, then start jerking off again begging for more LOL's so pathetic. Nothing in his life means anything except for exposure. Sophie was only other faggot that showed any interest in him and he threw it all away for more exposure LOL. Without exposure he's empty inside.. and with exposure hes ruined. Hes trapped with no way out, all the faggot can do is jerk off while looking at his site and spending hours googling different keywords to see how well the site ranks LOL.  Hes knows its well past the point of no return and its only a matter of time before he loses the plot wanting the site removed LOL

August 30th
Yesterday as soon as I changed the title of paul Greenwell's exposure site to say paulgreenwell.com instead of sissysophiemtl.com the fag came instantly.  It reminded him of how he used to have his own exposure site, and how ruined he was from it appearing over google. Without hesitation the loser bimbo sent his fagcash again today along with new pictures and videos to post all over his exposure site, hes so excited that its starting to rank all over Google, and he knows the more its updated the better it will rank! I can tell that the reality is slowly hitting him, that this is him having his own all-out exposure all over again. Everything on the site is about him, its no different to the other site he had, and its going to ruin him just as much as that site did LOL. The fag has mentioned a few times that he dosnt know how long he will be able to take it. I dont know either LOL I  have a feeling he will only be able to take the daily uploads for another 2 or 3 weeks before he completely loses it just like his ex boyfriend Sophie did. But until then hes going to make the most of it paying each and everyday for the daily updates jerking his lil fag cock 15times a day, and cumming anytime he opens the site seeing paulgreenwell.com haha. There is a $500 fee for the site to be taken down, which is nothing for a fag that spends all his cash on exposure LOL. Lets see how long the loser lasts
August 29th
Time for another update LOL. Its only been so long because this faggot had ran out of fagcash the other day and still wanted me to make changes to his all out exposure site. Ofcourse I made the faggot promise to pay a large amount when he did get paid in order for me to make the updates then… Normally i wouldn't do this but the stupid wouldn't stop begging and he had been a good loser latly paying atleast every 2nd day.  When Friday came, he paid the amount as promised, but of course the faggot expected more exposure… which I didn't give him until he paid even more LOL so the faggot had to wait until today to send more, as soon as he got paid he messaged me and sent the fagtax straight to my account like a godd lil faggot. As well as updating this exposure, I will update his all out exposure site, so almost every instance of his ex bf glue nose sophie is gone from the site.  Paul Greenwell will 100% own sissysophiemtl.com and be the only faggot exposed on that site! The next step is to change the url to paulgreenwell.com, it wont be long before the stupid faggot is begging for me to do that!
August 24th.
The update would have been sooner but I have busy, bimbo paul had already sent his fagcash the other day waiting for the update to his post LOL. Stupid slut thinking the updates will give him more exposure when hes already the most exposed loser on the internet LOL. Hes starting to lose it, one minute hes telling me that he cant handle it and he dosnt know how much longer he will be able to deal with having his own site… then the next minute hes telling me to promote the site everywhere and update it with all his old posts LOL. I give it a week or two before this bimbo faggot loses it just like his boyfriend sissy sophie did LOL. These two faggots are so alike, they are 100% made for each other.  Since I havnt exposed paul greenwell the last few days I know hes crying it more than every, feeeling as stupid as ever. As soon as he cums he will regret it.. then he will have to start jerking off again so he dosnt go crazy knowing his life is ruined and there isnt anything he can do about it. At this point no matter how much he pays for removal there is no way all his content could be removed LOL. Hes legit RUINED FOREVER. Such a dumb slut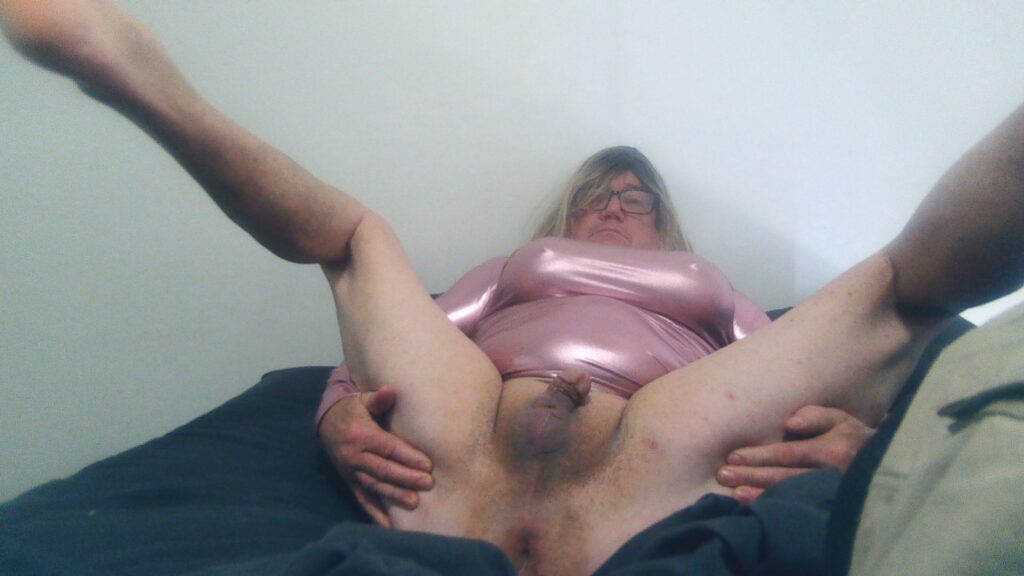 August 21th.
Didnt take long at all. Paul Greenwell's boyfriend sissy slut sophie has lost the plot. Shes demanding Paul Greenwells site be taken down. But Paul Greenwell keeps using her money to pay for daily updates, so I guess its not going anywhere LOL. Bimbo paul is already showing up in google search results for his website. This faggot craves exposure so much he doesn't care about any body else as long as he gets exposed, he has no problem using his boyfriends money to pay for his own exposure LOL. I knew these two fags wouldn't last long together.  But that dosnt change anything, paul greenwell is still going to be paying for daily updates, and jerking his lil dick like no tomorrow knowing his life revolves around exposure. The only thing it changes is now Paul Greenwell once again has his very own exposure site..it might not have his name in the title but make no mistake it's his LOL. sissysophiemtl.com is dedicated to what a loser paul Greenwell is LOL. As with all fags addicted to exposure, sissy slut sophie will come crawling back anyday with her wallet out begging to send money to be exposed.. and once again that money will be used to expose paul more LOL its a vicious cycle these two fags are stuck in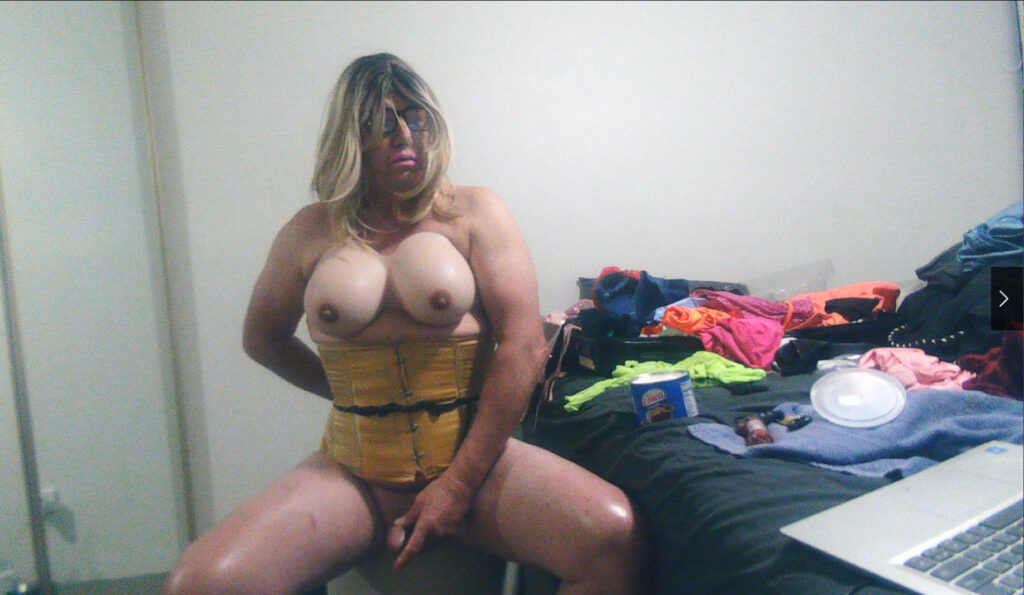 August 19th.
Paul Greenwell messaged me this morning, like a good faggot telling me he had already sent his fagcash and is waiting for more exposure. Hes excited more than normal today, because he has his very own exposure site backup! His online faggot boy/girlfriend sissysophie paid for it LOL. Paul Greenwell is such a loser, he craves exposure so much he took over her site, used all her fagcash to pay for him to be plastered all over her site so its pretty much his site now. Sissysophiemtl.com. Faggot paul greenwell dosnt give a shit about what his bf thinks, all he thinks about is exposure LOL. I cant blame him tho, sissysophie sniffs glue no one gives a shit what she thinks. It wont be long before paul greenwell is showing up all over google for sissysophiemtl.com back to daily updates and exposed like he used to be when he had his own site under his own name. This is the next best thing. How long till he regrets it lmao
August 14th
Another day another update, Paul Greenwell paid out the ass in fagtax just the other day to get his content all over his boyfriends site sissysophiemtl.com, and today he comes back saying how much he couldn't wait to send even more fagtax hahaha this fag truly is a mess.  He told me he wouldnt be with the disgusting loser faggot sophie for more than 24hours… but what you would you know these two patheitc losers are still with each other LMAO. They are made for each other after all, every single day begging for exposure and paying for the exposure LOL. They are the only two fags that can tolerate each other. I didnt think Paul greenwell could get any lower… but this really is a new low for him. Lets see how long it lasts LMAO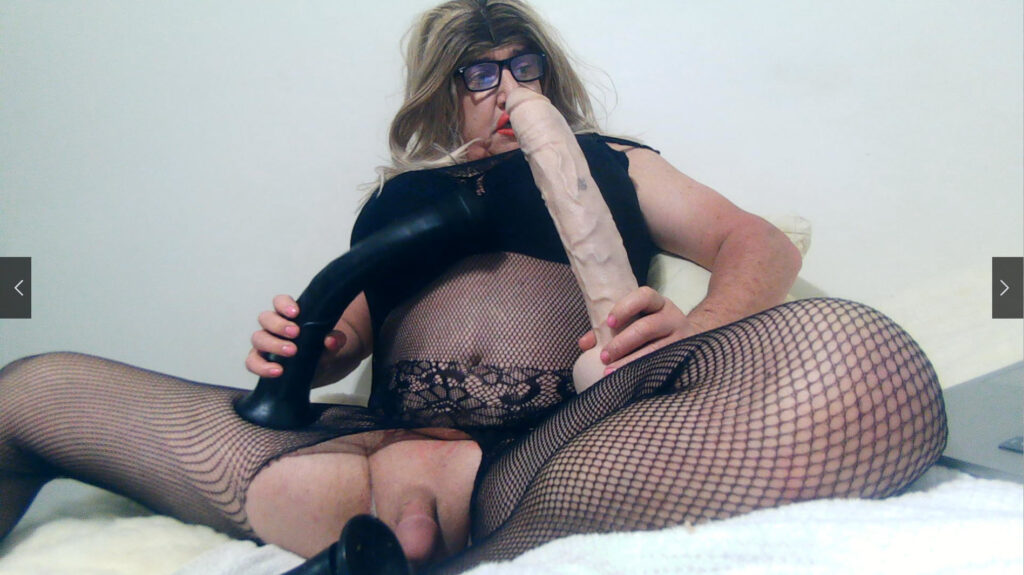 August 12th
Stupid slut Paul Greenwell just messaged me telling me he feels like its been forever since we last spoke, the dumb faggot legit paid me just the other day hahahaha. Hes craving my attention more and more.. and whats more pathetic is the faggot is still in love with dipshit Sophie the glue-sniffing faggot.  As soon as paul Greenwell sent his fagtax he tells me "please do something to really ruin me" insinuating that he's not already ruined hahahah. As soon as he cums and takes his hand of his lil cock and comes back to reality he will realise how ruined he is, how he cant even walk down the street without someone yelling out at him, if he goes to any bars he gets ran out for being such a stupid faggot LOL. Its been years since this faggot has been with a girl, or even seen a girl naked, and I can pretty much guarantee he wont be with another girl ever again. But thats only a problem for this faggot when hes not jerking off… luckily for him all he ever does is jerk off, and pay to be exposed. Its all his life is, at least now he can share that messed up life with his lover sissy sophie LMAO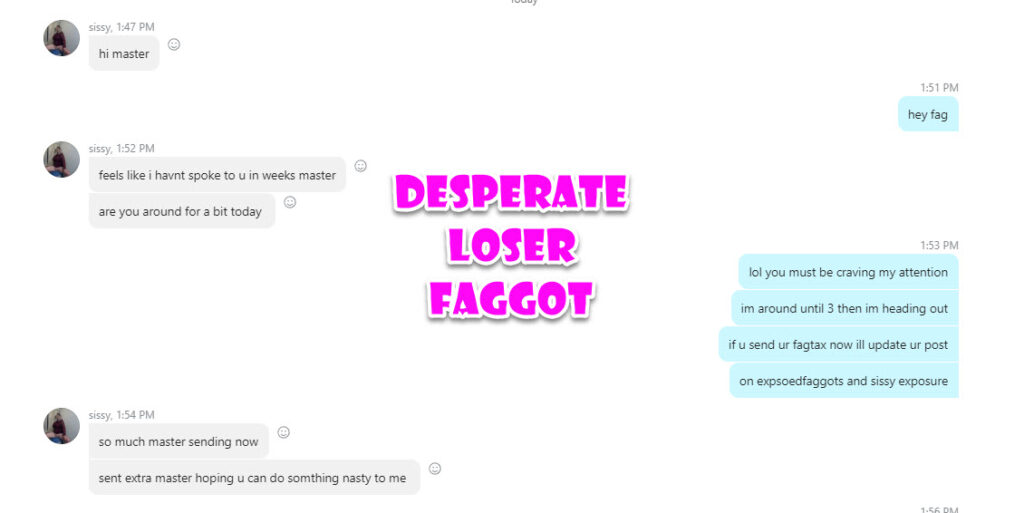 August 9th
Paul the stupid loser faggot as if he couldn't get any more pathetic, tonight he comes to me telling me hes made for sissy Sophie and in love her.  To know how stupid this is, you have to realize that you will NEVER see sissy sophie without a crackpipe in her mouth or a glue stick to her nose LOL shes a total piece of shit, as pathetic as you can get..in a way that makes sense why paul loves her, they are both similar in that they have no friends or family and spend every 2nd of every day thinking about how to expose themselves more. Exposure is the only attention these 2 losers get, and they are such pathetic losers they have to pay for it, and they are happy to do so LOL. It wasnt that long ago these to putrid faggots where talking about getting married, then sissy Sophie had a meltdown like she does every few weeks because of all the meth shes smokes, she started really hating paul Greenwell, and bimbo paul would always talk about how hes nothing like her and nowhere near as bad as him … no the faggot cant stop saying how they are made for each other and begging me to make a picture of the two of them… I think they are made for each other as well so of course I made the pictures and took his fagtax LMAO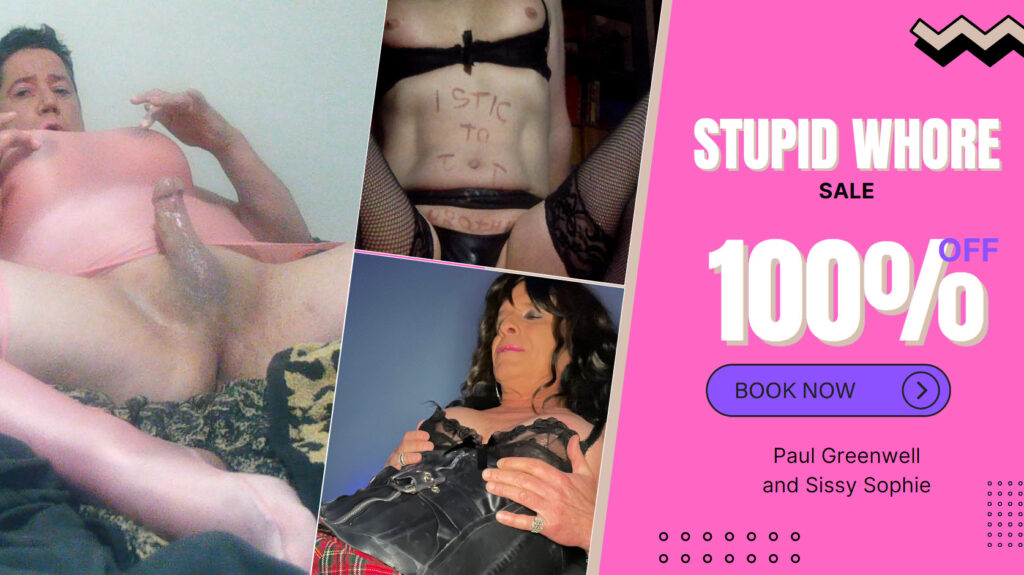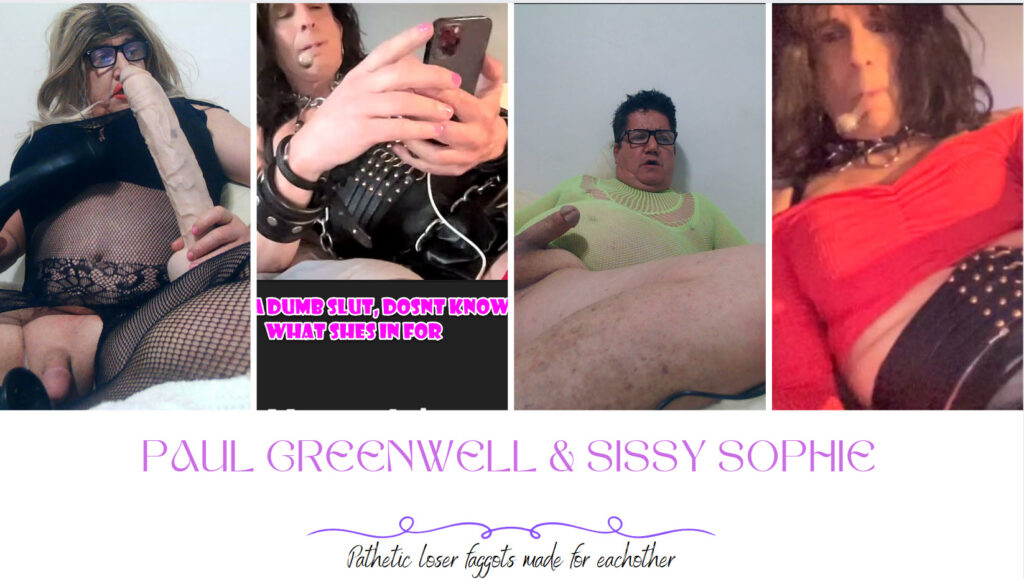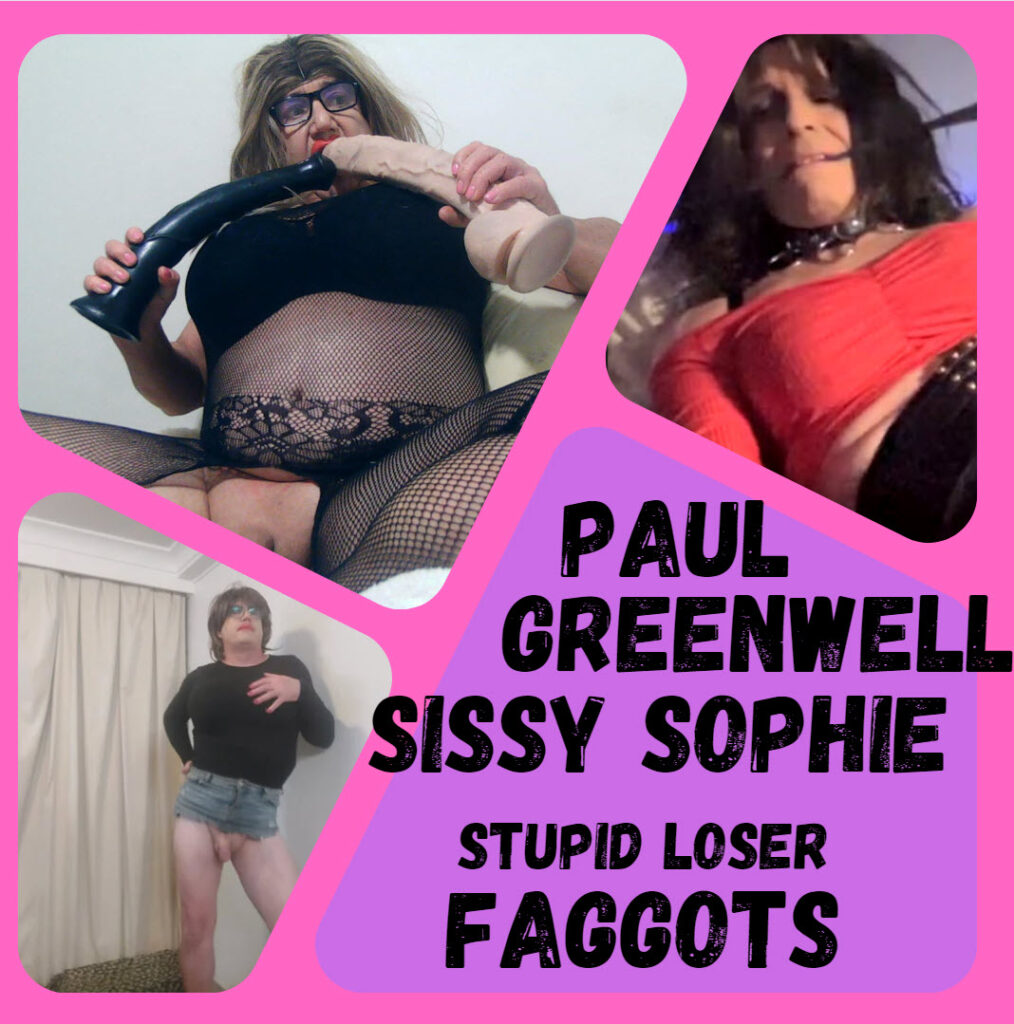 August 3rd
Another day, another Paul Greenwell exposure update LOL. This fag is back to his old ways craving exposure every single day and paying every single day for exposure. After all, it is the only thing this loser has to live for. 7 am this morning I was plastering this faggot all over Twitter, but it wasn't enough of course he had to come and pay for even more humiliation LOL. Ive been spending hours upon hours with developers to speed up this site, and all so I can upload more of paul green wells pictures and videos to his gallery and expose the faggot even further.  No doubt the loser will be back tomorrow begging to send his fagtax and begging for his expousre to be updated LOL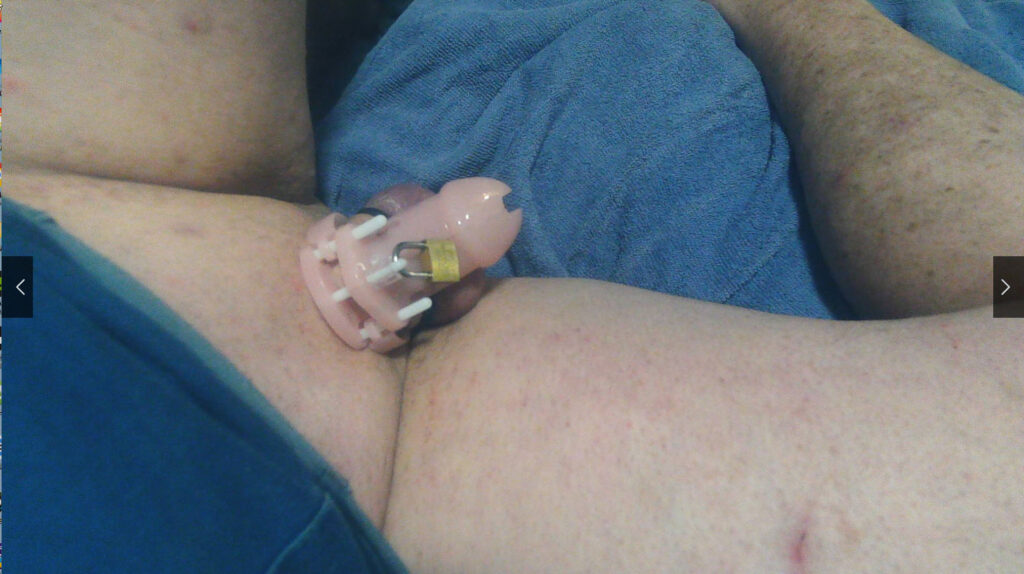 August 2nd
Probably hasn't even been 24 hours and of course loser Paul Greenwell has sent more fagtax to be even more exposed LOL. The more exposure this loser gets the more he craves it. And as if I didnt have enough of this loser's pictures and videos, the dumb slut gave me access to a google drive with over 15gb of content. All pics and videos of him dressed as a bimbo looking like a clown LOL, he's so pathetic.  Within 1minute of me telling him to send his fagcash he had it sent, and I knew he would. This loser always pays, because he knows if he doesn't no one will give him attention LMAO. Check out his gallery to see his latest pictures, and ofcourse he will be plastered all over sissy-exposure.com as well. 
August 1st
Sissy Slut paul greenwell has been craving exposure like no tomorrow. He messaged me last night at midnight… but i was asleep so the stupid faggot had to wait until today before he could exposed by me. Im sure the pathetic paid some others to expose him while waiting for me to come online, he really can't help himself. He needs more and more exposure each and every day. He's for sure getting worse. But hes the exact type of faggot this site was built for. No matter what one thing is for sure, Paul Greenwell will always be back craving exposure.  Alot of fags want to be exposed like him… but then when they see the amounts he pays and how he has no life, no friends and no family… its the last thing they want. Paul Greenwell is one of the very few exposure faggots out there… many fags think they want exposure until they actually it.
July 28th
You guessed it… Dumb slut loser paul greenwell is back again begging for more exposure. Ive lost count on what update this is. But I'm sure you don't care and paul doesn't care either, as long as there is new updates thats all he cares about hahah hes so stupid. All of these updates could say the exact same thing and he would be too stupid to notice he would just be sitting jerking his clit knowing his exposure was updated LOL. He dosnt even bother asking me if he can pay anymore, he just sends his fagcash and messages me after…. what all good fags should do. He's such a loser he will do anything to impress me LOL.  You will notice above the picture of him with his cock cage, i thought it was just a picture of it.. didn't realize he was wearing it, had to look at the picture for a few minutes to realise his lil dick is legit that tiny HAHAHA how can anyone fit into that thing. No wonder he turned into a faggot, he could never please a women with that thing.
July 25th
LOl Paul Greenwell is back again, doing what he does best… craving more exposure and paying his fagtax.  He tells me has the whole day to be ruined, of course, he does. What else would the loser be doing? He has no friends or family. All he has is me, and his hypno porn LOL.  He knows exposedfaggots.com is his home, and where he belongs. This site was built especially with fags like paul Greenwell in mind. Stupid losers with no lives, that want permanent exposure and are dumb enough to pay for it LOL. This is why Paul Greenwell is the first and original mascot of exposedfaggots.com. No other faggot craves exposure like this dumb slut, and there is 0 chance this faggot is coming to be complaining that he's exposed too much. He will only complain if he's not daily exposed LOL. When paul greenwell is dressed in his bimbo outfit, wearing his fake tities jerking to the posts of him exposed hes in his happy place LOL. Truly a pathetic loser with nothing to live for except exposure. And he wouldn't have it any other way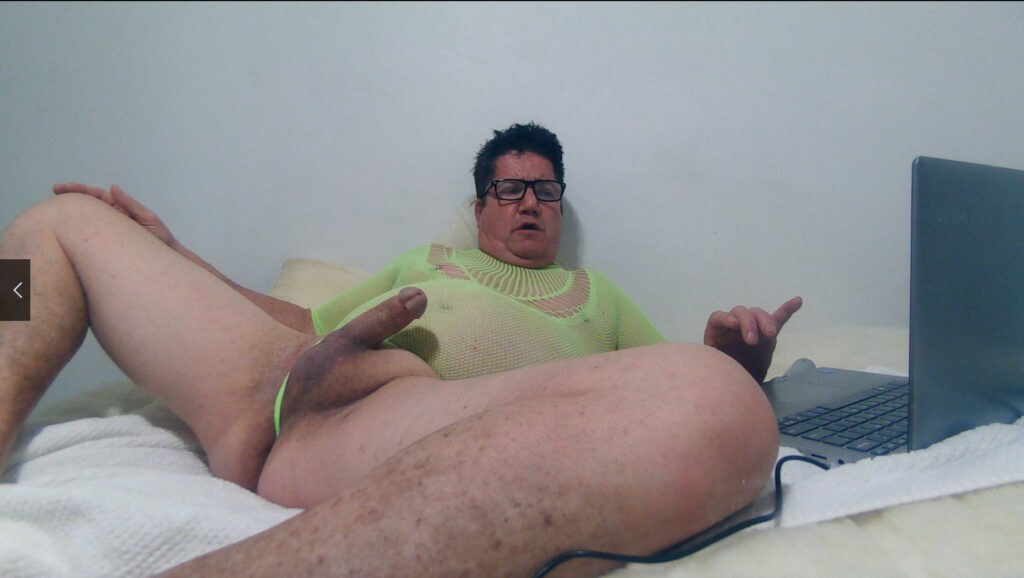 July 22th
Pathetic loser paul greenwell is back again begging for exposure, what a surprise LOL. This faggot legit cannot get enough, no matter if hes already the most exposed loser on every site… its still not enough LOL. As soon as I told the faggot to send his fagtax he had it sent within 2minutes, faggot was probably just sitting at his laptop dressed as a stupid bimbo waiting for my command to send, hes so pathetic. I knew there was no way he would say no LOL. Its saturday here in Australia, I can gurantee this loser isnt going to do a thing all weekend except wear his bimbo outfit and watch sissy hipno porn. When he cums hes going to eat it, and when hes all out of cum he will prob drink his piss. This loser is so pathetic LOL,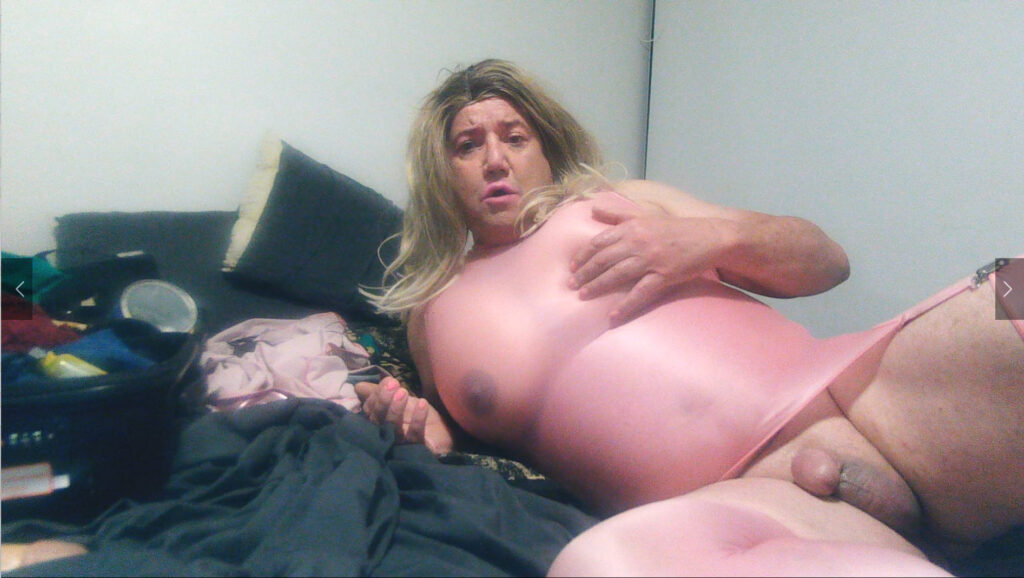 July 18th
11 30pm, got up to take a piss checked my Skype, and of course, there is the stupid sissy slut paul Greenwell messaging me begging for more exposure.  I knew that if I told him I will stay up and expose him if he sends his fagtax there is no way he could say no LOL. Of course, the lil slut sent his fagtax straight away, thanking me for taking it. Hes so pathetic. He also tells me hes had his cage on since Saturday, im not sure I believe him or not. There is no way this faggot can go 2 hours without jerking, when he's not jerking reality sets in and he realizes how ruined he is, and how fucked his life is. He cant even go down to the local bar without getting ran out, hes really that exposed LOL. The only thing he can do is jerk off, which makes him want more and more exposure. Its a cycle that will never send, and there is not a thing he can do about it. The fag is so dumb, that even if he could go back and change things, he wouldn't. This is the life he wants to live, which is good…seeing as the fag has no choice LOL. Totally ruined.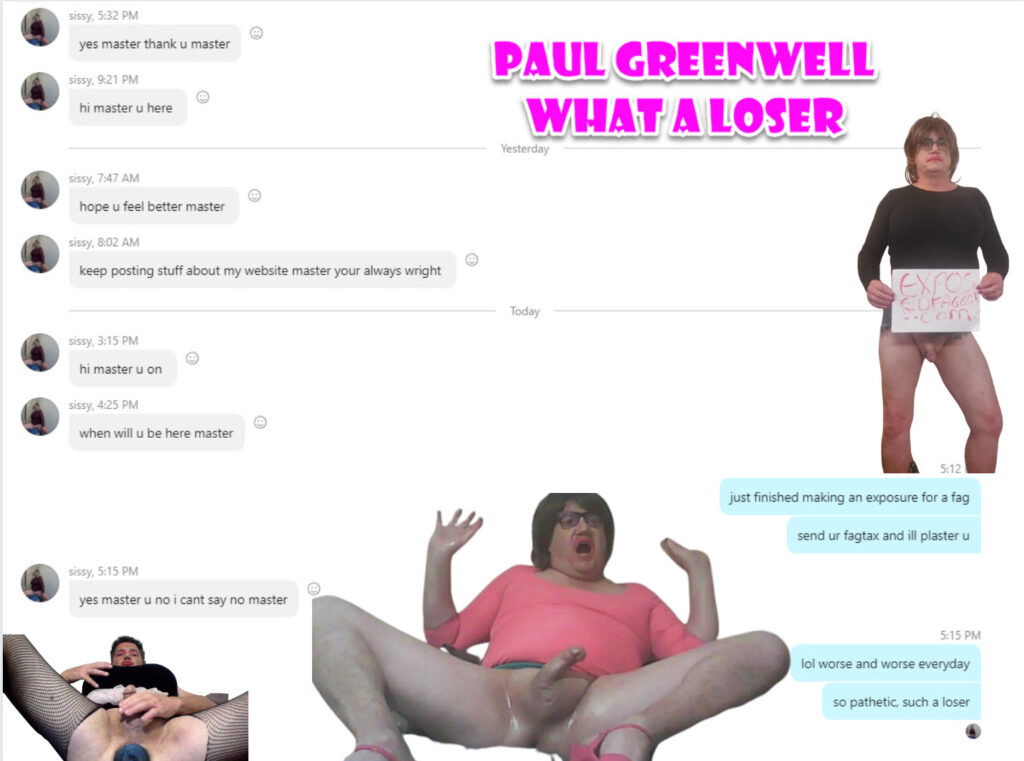 July 16h
Another day, another message from Stupid Slut Paul Greenwell wanting even more exposure. As if this stupid bimbo isn't exposed enough LOL. When you're as addicted as Paul Greenwell and when expose is legit your entire life then it can never be enough.  Sissy Slut Greenwell can be the front page of all my sites and plastered all over twitter and still not enough for the faggot. Sure the dirty fag will jerk off and cum all over himself then eat it… then 10mins later he will want more and more. His life is so sad and pathetic, nothing makes him happy except ruining himself LMAO. 

July 15th
Again, as soon as I wake up multiple messages from the dumb slut paul greenwell begging, craving for exposure. Like always I give the dumb slut an order to send his fagtax and wait for me to be ready, without hesitation the stupid faggot sends it. Then I make him wait for me to have breakfast until I update his exposure. He sits there patently jerking his lil cock waiting for me. Seeing this post updated is the highlight of his day, he's so fucking pathetic. I guarantee today he won't do anything besides jerk his clit and beg me to plaster him everywhere all day long.  hes such pathetic low life slut, and he knows if he didnt pay no one would give him attention. Even when he does pay some people still don't give him attention LMAO. His life is for sure ruined
July 11th
As soon as I wake up and open my laptop course there is a message from Paula Greenwel begging for exposure, begging to be ruined. Of course I told the fag to send his fagcash, he already had the app on his phone open waiting for me to tell him to send haha hes so pathetic. Without a doubt hes going to spend all day today jerking off to sissy hypno porn and looking at his exposures. And today is Tuesday LOL. Once he cums reality will set in, he will realize how hes ruined his life.. it will sink in that hes paid thousands upon thousands to be ruined, he cants even go to the local pub wihtout getting laughed at and ran out LOL The only way for him to mask reality is to start jerking again.. then of course he starts paying again and is back to getting even more exposed. Hes trapped in this loop and will never escape, its impossible for him to escape now. All he can do is embrace it, and go all out with the exposure
July 7th
12 30am and the dumb slut Paul Greenwell just messaged me on skype, I knew the fag would be desperate after his long break.. so i told the little slut if he wanted me to expose him he has to send $150 straight to my bank account. Without hesitation the dumb slut opened his payment app and sent his fagtax, there is no way he could resist LOL. Such a pathetic faggot. Anytime he thinks of the gallery I made him, his lil clit starts to tingle, only takes the faggot a few minutes to come after reading his exposure update… then reality sets in. His life is so ruined he cant cope with reality for very long so the dumb slut starts jerking again LOL hes tripped in this cycle, and has been for many years LOL truly pathetic the exact type of loser this site was made for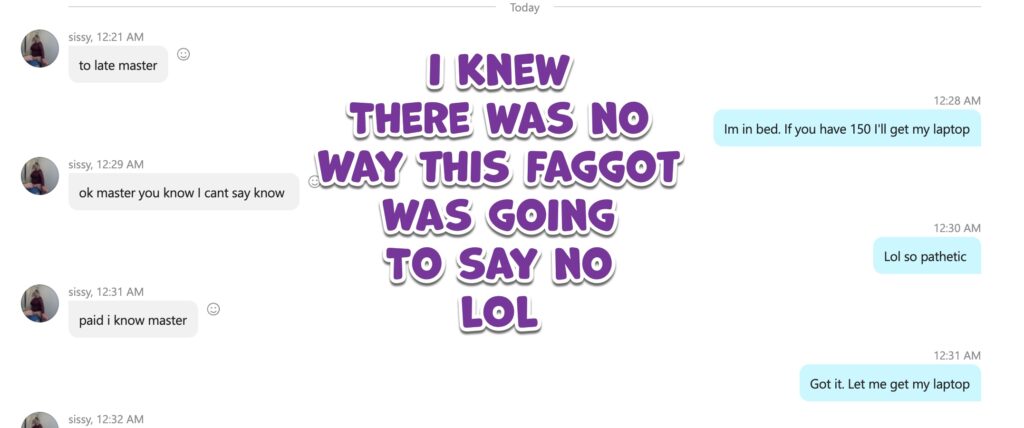 July 5th
Ofcourse faggot paul Greenwell couldn't help himself. As soon as I woke up there is a message on skype from him, straight away I told the loser to send his fagtax without hesitation he had it sent, he was waiting for my command all morning LOL. I knew because of the recent breaks hes had that he would be craving it more than ever.  Today is like all his Christmases and birthdays coming at once as I put him and the other pathetic loser faggot Mark Kessler on the age verification page. This means anytime anyone visits the site they will see mark and paul first, straight away letting them know this site is for the biggest losers the internet has to offer! Paul is on skype right now telling me how much hes craving exposure, how much he misses me and how hes going to be paying me everyday LOL hes such a loser.  

July 2nd
Without a doubt the longest time this year without updating Paul Greenwell's post. The stupid fag is going to be craving exposure like crazy now! He tried to pay earlier in the week but there was an issue with my bank… even with the 10s of thousands he has sent throughout the years I still don't give this faggot any freebies LOL He knows how pathetic he is and knows he doesn't deserve anything for free,  a stupid loser bimbo like him has to pay to get any kind of attention LOL.  Fag Paul tells me hes been sick with the flu… im not sure how since the faggot never leaves his house LOL Im certain because of this long break he wont be able to control himself and hes going to be begging to be ruined faily. It always happens when he takes along break the fag is trapped in the exposure loop with no way out. This is his life for ever, and he cant do anything about it except embrace it.
June 20th
The faggot Paul Greenwell is back, doing what he does best craving exposure, craving attention. Jerking his cock being as pathetic as he can. 7days have passed since the last update, this is a VERY long time for someone as pathetic as Paul Greenwell. The Loser was probably broke from paying for daily updates, the funniest part is no one even noticed he was gone except his lover Mark Kessler. I bet if this loser never came back no one would notice, that's how much of a loser he is. One thing is certain, because of having such a long break as soon as the faggot reads this his tiny lil fag cock will explode with his slut cum, then he will eat it LOL.
June 13th update.
The loser faggot Paul Greenwell tried to stay away, he tried he hardest this time. But still the loser only lasted 4days LOL. He knows exposure is his life, without it he has nothing to live for. He needs to be reminded daily what a pathetic loser bimbo he is. I know since he hasnt an update for 4days hes going to be craving it so bad now LOL. Even though the fag is already exposed all over the internet its not enough, he needs more and more. Its truly an addiction he will never be able to break. Once he stops for a few days the reality hits him that he has no friends and all his family has disowned him, so what else is there for him except to get exposed even harder LOL. This really is a never ending cycle for him.
June 9th update
Paul Greenwell the bimbo loser is back again, doing what he does best craving more exposure LOL. Hes so happy hes on the sissy-exposure.com popup next to Mark Kessler, both these fags are as pathetic as each other and they suit it! Paul tells me its been a very long time since someone has loved him as much as Mark does, and i believe him LOL. Im not sure whos more pathetic out of the two. But i do know, no matter what paul greenwell will always come back for exposure. There is no way he can last a week without it.  You can see he tried since the last update was on the 4th.. but its only been 5days. To be fair its the longest break this loser has had in quite some time. It just means the next few days hes going to crave it like never before, it always happens when he has a break. He comes back worse and worse LOL. On and check below the faggot has a new favourite toy LOL.
June 4th update.
Another day, another post about Paul Greenwell LOL. This loser really is getting worse, I didn't think it was possible but Paul Greenwell is craving exposure more than ever before. The dumb faggot knows it as well, hes telling me hes going to paying everyday this month for daily updates to his exposure, he's dumb enough that I believe him LOL. Hes already paying at least every 2nd day, he can't help himself. Hes that bad now, he dosnt even try and help himself. He goes to bed wearing his sissy outfit so as soon as he wakes up he doesn't waste any time and can get straight to sending his fagtax for more exposure. He dosnt think about anything else now, only about paying me and getting more exposure from me. The dumb slut is exposed so much at this point then the exposures I do really don't add to anything, but hes that stupid he still pays for it daily. Its because the stupid sissy craves attention, any attention he can get. You dont get much more pathetic than this LOL. Paul Greenwell is both an IDOL to many fags but always a warning to just as many other faggots at what can become of them if they get too deep into the exposure game. It all starts out as fun and games then quickly consumes your whole life until you have nothing left except your posts on the internet LOL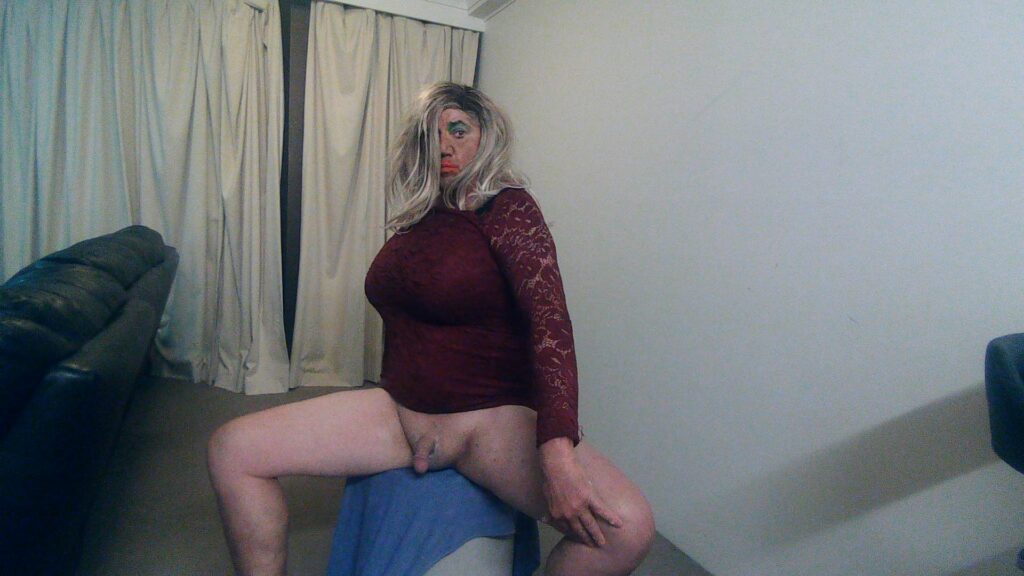 June 3rd update.
Not even 10 am here, Paul Greenwell is messaging me begging for exposure, telling me how he's getting worse. Such a stupid faggot, he cant get any worse hes already the most exposed bimbo slut on all of the internet LOL. He legit cant go a day without me posting about what a loser he is. Hes begging me to plaster him all weekend, ruin him like never before. Its funny that this faggot thinks he can get any more ruined. Just googling this loser's name brings up 20 diff sites with posts about what a no-life faggot he is. He will legit spend all day long jerking his lil clitty while watching hypno porn.  Some weeks he doesn't leave the house at all, and im the only person he has interactions with LOL. Hes telling the truth though, hes getting worse much worse. It won't be long before paulgreenwell.com is live again. We all know it, he won't be able to resist. He needs the next level of exposure.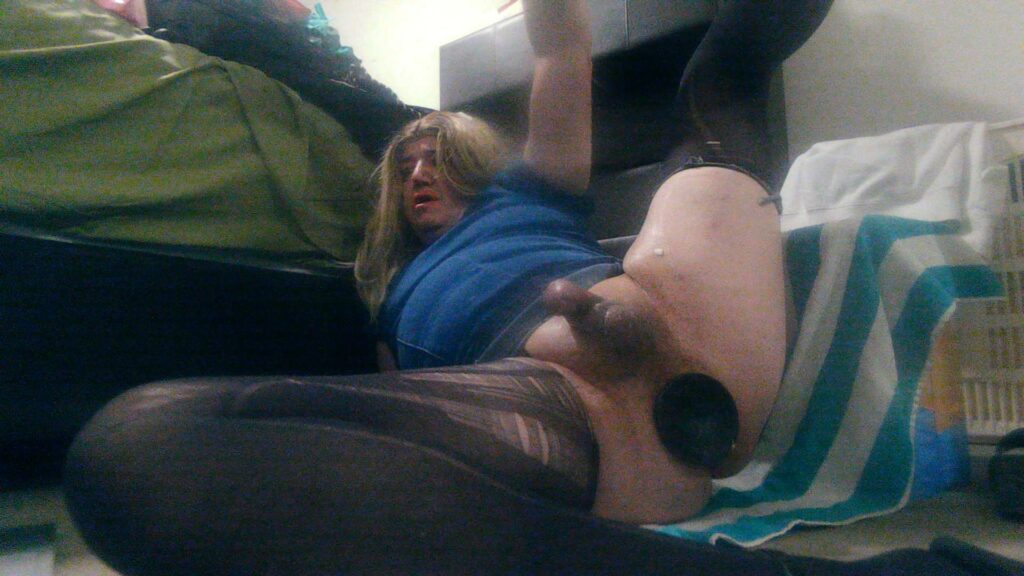 June 1st update.
The only reason there hasn't been an update before now is that I had a procedure and have been on heavy pain meds. After ignoring a bunch of losers paul greenwell messages, I finally responded and told him that if he wanted exposure he had to pay but would only get 10 – 15mins of my time. Without hesitation, this loser opened his bank app and sent his fagtax. He has been lost not being able to pay me every day and getting exposed by me every day.  If you dont think thats pathetic enough, today the faggot tells me he's getting jelous of Mark Kessler, the one who fag who actually likes/loves paul Greenwell LMAO.  I have been plastered Mark on my Twitter alot so I knew this would happen sooner or later. Fags are so pathetic. Exposure isn't enough, they need more exposure than any other fag LMAO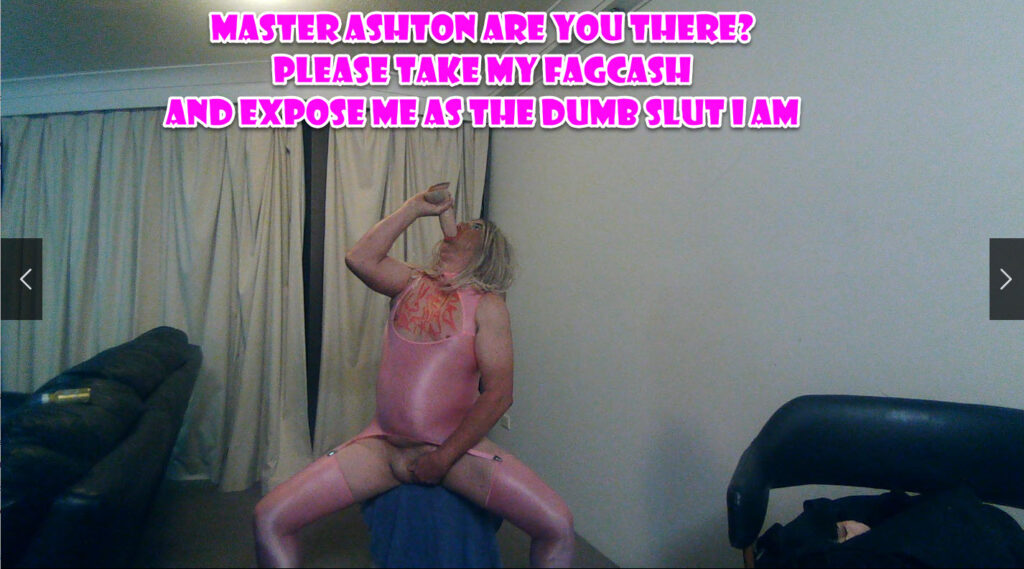 May 29th update.
This has been a record month for Paul Greenwell, he just can't stay away. Hes so addicted to sending his fagtax and having me expose him for the pathetic faggot he is. Exposure is just not enough for Paul Greenwell he also needs to send his fagtax to show what a complete loser he is. Hes reminding me that the month isnt over yet, he wants to go harder and harder with the exposure making sure its 100% permanent and no matter what, no matter how much he pays it will be impossible to remove his exposures LOL. The most pathetic part about this all, is hes had this level of exposure for the last few years, yet he keeps sending his fagtax for more and more LOL, the desperate faggot craves any sort of attention he can get. Just reading this is enough to get him off and make him pay even more LOL. The only thing that scares this faggot is his website paulgreenwell.com but it wont be long before hes craving, begging for it to go back up. I know hes getting worse and wont be able to resist.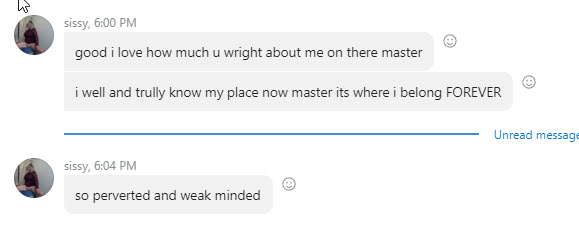 May 27th update.
Paul Greenwell messaging me again, he finally got some new videos and pictures. I can see why he hardly ever takes new content LMAO. The loser bimbo would fit right in at a circus.  I told him im going out and I only have 10minutes if that to expose him before my friend arrives to pick me up, that didnt bother this pathetic slut. Without a second thought he was sending his fagtax and my phone was beeping with another payment from dumb slut paul greenwell. Over 1200 in fagtax this month. 1200 for more exposure when hes already the most exposed faggot on the internet. He truly is a dumb slut in every sense of the word LOL. A true mascot to exposedfaggots.com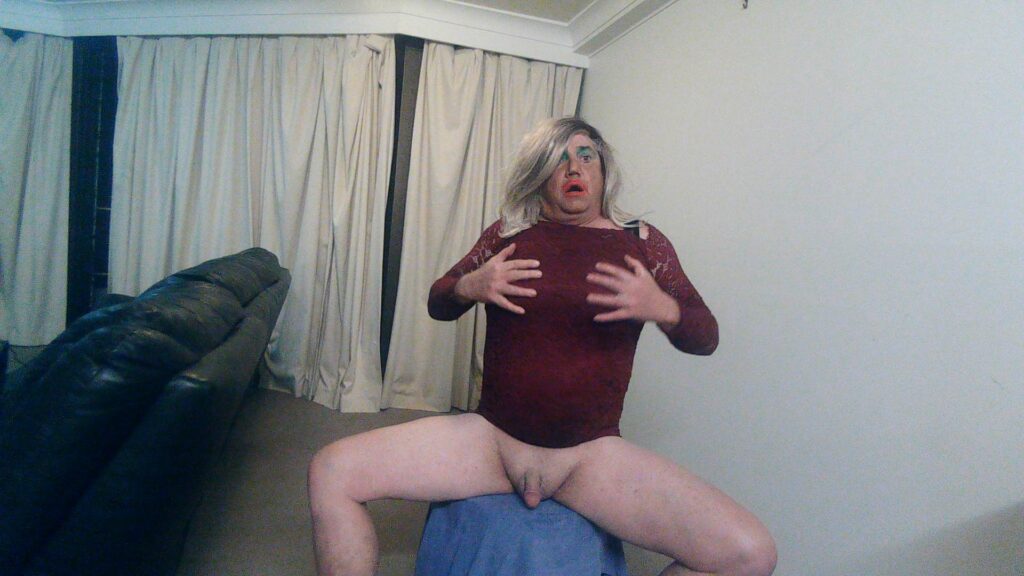 May 25th update.
10am and like clock work sissy slut paul Greenwell is begging to send his fagtax, begging to be exposed. Its Thursday and without a doubt this loser has been jerking all week long, and has no plans on stoppping anytime soon. I told this fag if he made a video eating his own cum that i would expose him for free. The stupid slut has been jerking so much he has no cum left hahahah. He had no choice but to pay again, but thats no problem for the loser. It just makes him feel like even more of a worthless faggot knowing he has to pay each and everytime. 
May 22nd update
The bimbo Paul Greenwell just cant help himself. Hes 100% getting worse. The very next day he's back begging for exposure. Of course, as soon as I replied he had his fagtax sent within 3 minutes. He knows at this point there really is no going back. So he might as well embrace it and go all out. I think it wont be long before hes back begging for this site and daily updates. It's the only thing left for this faggot. The dumb bimbo is on every single exposure site you can find, and probably also on every adult site as well.  Its one thing to be an exposure whore, its another to spend 1000s each month paying for it, he really is such a dumb slut. And the perfect face for exposedfaggots.com

May 21st Update
Guess whos back? Pathetic fag Paul Greenwell is back craving and begging for more exposure. The stupid fag goes to my Twitter sees all the other fags exposed and instantly gets jealous. As soon as his pay goes in he messages me telling me that he NEEDs more exposure and has sent his fagtax in advance to pay for it. He's such a pathetic stupid loser he knows he has to pay for any attention he gets LOL. When he looks at his bank statement and sees how much he has sent me this month alone he instantly cums. Then reality starts to set it, all he can do is start to jerk off again so he doesn't have to think about how ruined his life is LMAO. But he and I both know, this is his destiny and he was born to be the face of exposedfaggots.com. Paul Greenwell is not only a Mascot for exposedfaggots.com but an IDOL to many other exposure faggots. Showing them how to be a true exposure slut

May 18th update.
No surprise Paul Greenwell is back with more fag cash, begging for more exposure. This pathetic loser now has dedicated galleries on both exposedfaggots.com and sissy-exposure.com but it's not enough. He needs daily exposure. He's getting worse and worse, he can't help himself no matter how hard he tries.  He can't go 2days without begging and paying for more exposure LOL. If he keeps this up he will have his paulgreenwell.com site back up in no time with daily updates getting published!  The most pathetic part is he knows hes a loser and no one except Mark Kessler wants to look at him, but every week he will pay multiple times just to be exposed to hope to get that tiny bit of attention the bimbo craves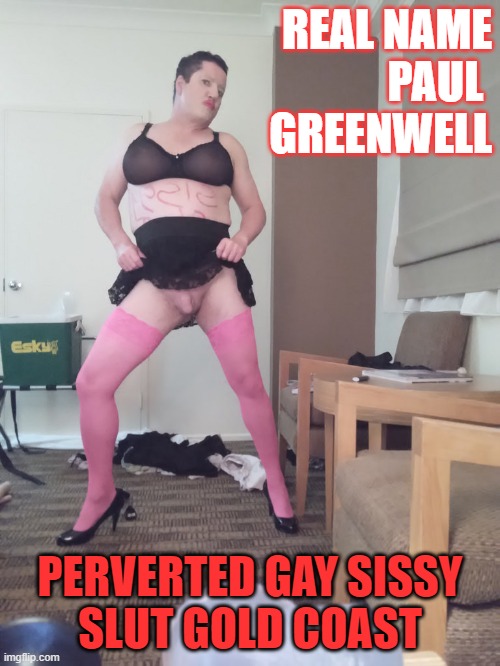 May 13th update
10 pm Here in Australia about to log off, was thinking to myself I haven't heard from that Loser paul Greenwell tonight. Then what would u know, like clockwork the bimbo slut messages me begging for exposure, and straight away he sends his fagcash like the pathetic fag he is to make sure I stay on and expose him LOL.
He and Mark Kessler are becoming lovers, both jerking to each other while sending fagcash, those losers are made for each other.  Paul Is such a pathetic faggot desperately asking how many people have viewed his gallery, this loser craves attention so bad LOL. Hes getting worse if thats even possible LOL, literally coming to me almost every second day begging for send his fagtax begging for any exposure he can get. Hes nothing without exposure, it won't be long before he's begging for his site to go back up. The only thing that actually scares him LOL. Im not sure why as he's already exposed all over the internet.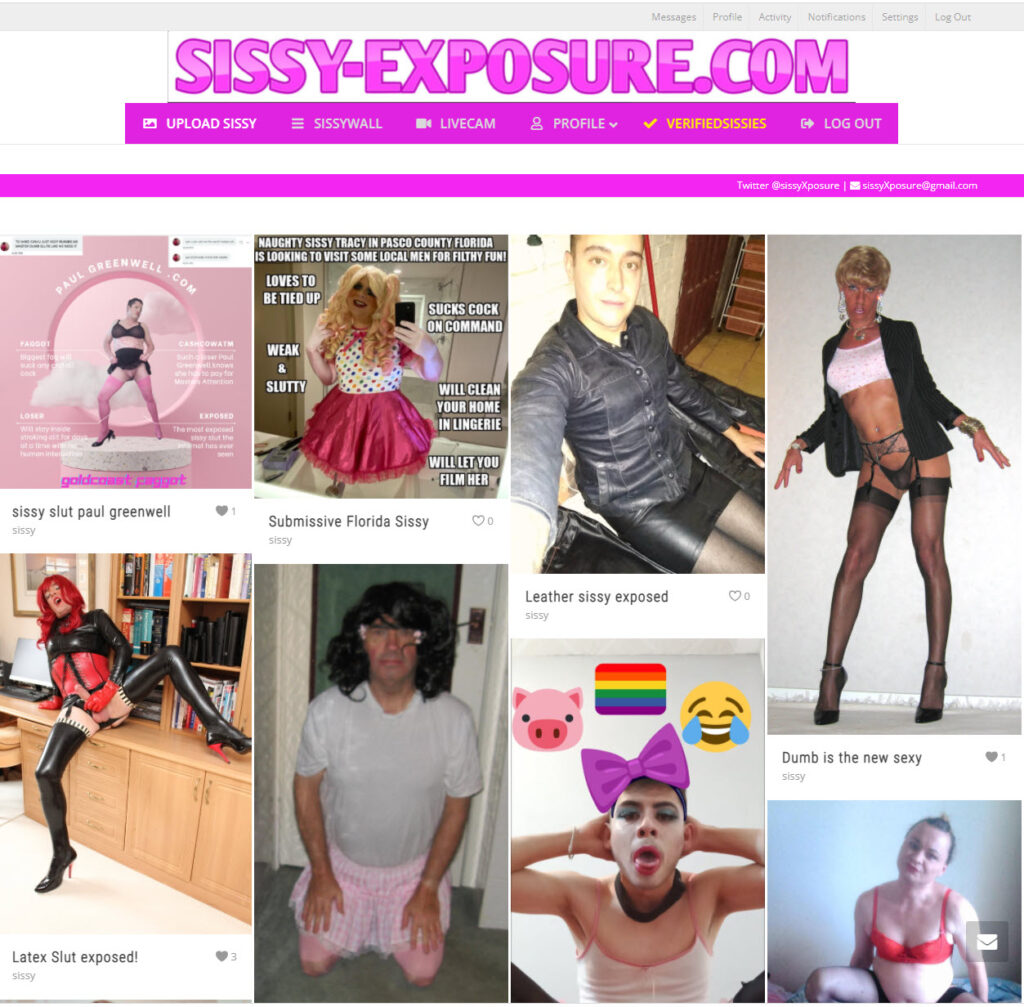 May 10th update.
Paul Greenwell that stupid bimbo loser you all know is back, begging like he always does. Begging for more exposure, and more attention. He wants to be the no1 sissy fag on all of the internet LOL. What a pathetic loser.  All day he's been stroking his clitty waiting for his pay to go in, as soon as it goes in he messages me to start plastering him all over Twitter and putting him in the number 1 spots on my site. It's never enough, he jerks his clitty cums, waits a few minutes then does it all again LOL He truly is a pathetic loser. Some people don't understand how he can be so pathetic. But once you realize this is his life, it's all he has it starts to make sense. This loser has no friends, he has no family, and he's too pathetic for other fags to talk to (except mark Kessler LOL) so what has he got to live for? Not a thing. So he might as well stick to the one thing he's good at, paying people to expose him.  He has to keep masturbating, so reality doesn't sink in. As long as he keeps thinking about more and more exposure he's fine LOL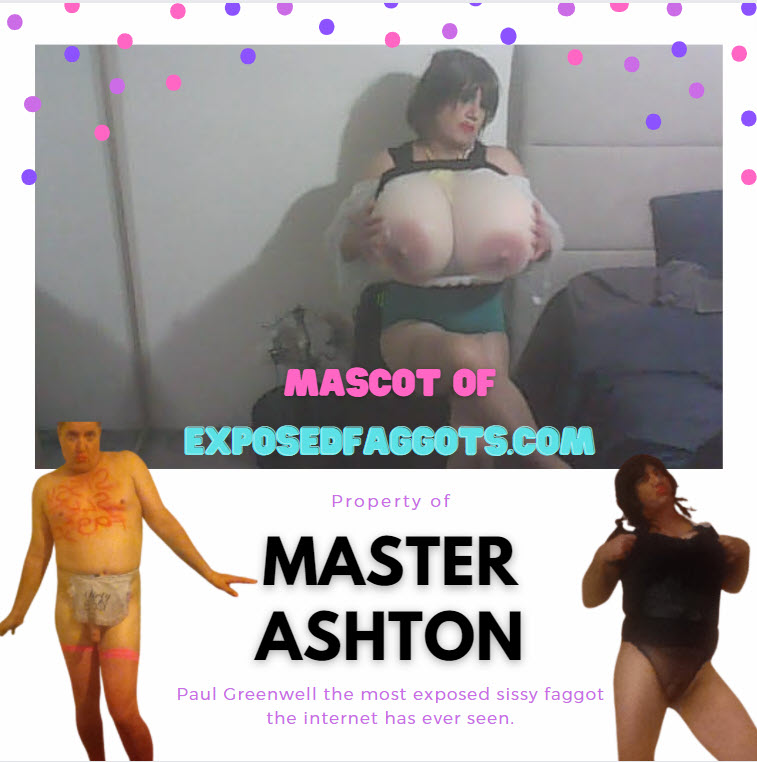 May 4th 203
Another week, another message from Paul Greenwell begging to send his fagcash and be exposed anywhere he can be. Just like you can be sure the sun will rise each morning you can be sure Paul Greenwell will be playing with his little clitty begging for any attention he can get. He has no problem paying for it, he knows what a pathetic loser he is, and he knows people will only communicate with him if he pays LOL. Regularly Paul Greenwell will sit in his room finding the biggest objects he can to shove up his ass while wearing his fake tities and dressing in his best sissy clothes. He will jerk his lil clit like no tomorrow and not leave his room for days on end. The only interaction he has is with the people he pays to talk to him LOL. Once his money has run out, he's alone until payday LOL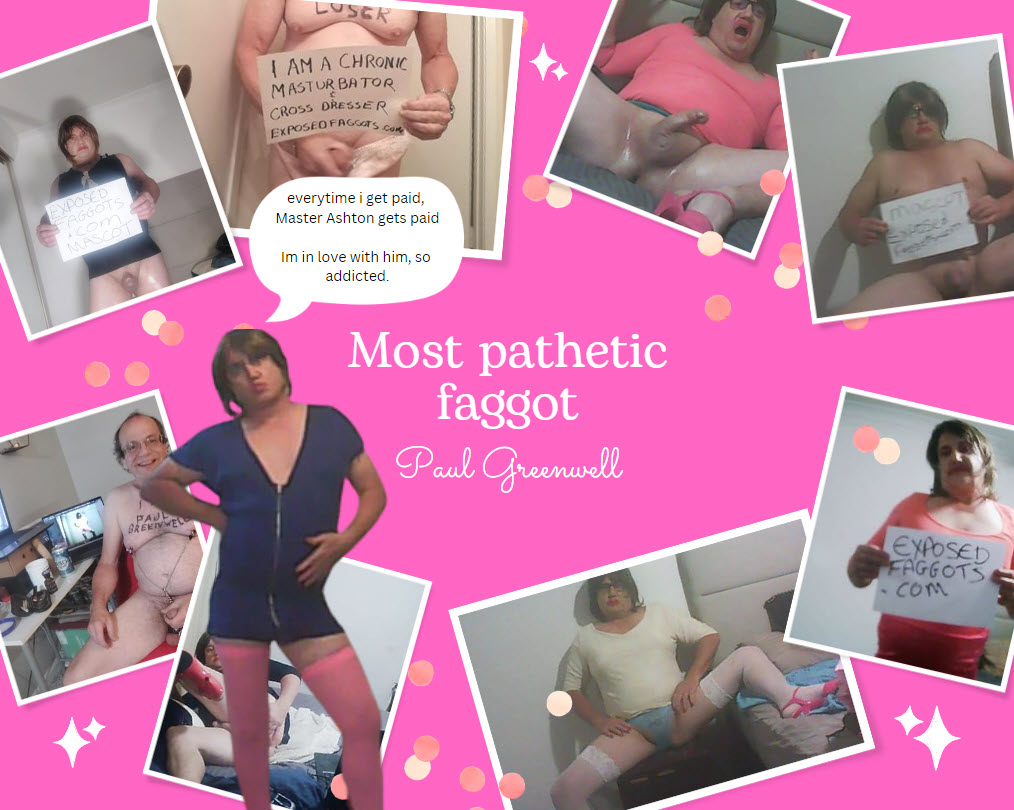 Sometimes reality gets the best of him, and he realizes what hes done with his life. He thinks he will change his ways and go back to living a normal life. Once he tries he quickly realizes that's impossible. He can't even go to the local bar without people calling him a stupid bimbo fag and running him out of the place. Somedays hes too ashamed to go outside knowing that everyone knows what a stupid bimbo loser he is.  In the end, though he knows, that this is his life now. And there is no going back. No amount of fagtax can undo the damage he has done. The internet, the world will know what a cock sucking faggot bimbo he is till the end of time. The only thing for him to do is go further and further down the exposure hole. He legit has nothing else to live for. 
I knew paul greenwell would be back. I know he can't live without me, and he knows it too.  Within days he was back begging or exposure apologizing.  Letting me know I'm his world, and without me he's nothing. Exposure is legit all this faggot has, and he knows I'm the best at exposure!
Paul Greenwell is such a loser he paid for this exposure to back to the front page, he desperately craves attention But he's so pathetic the only way he can get it is by paying for it LOL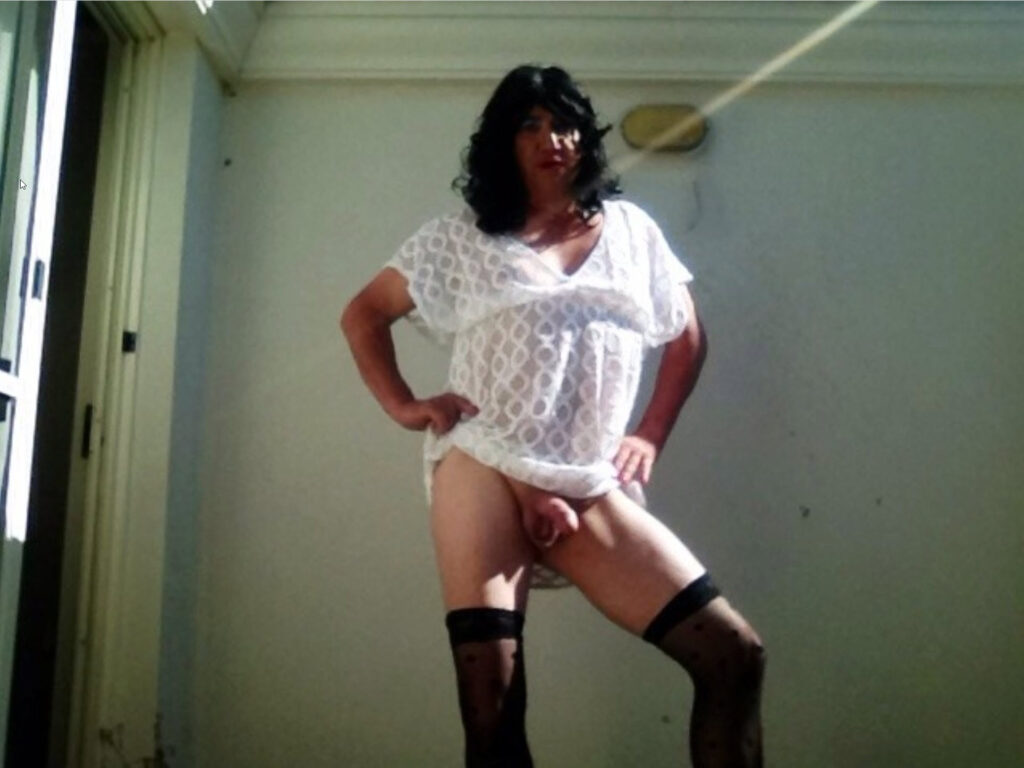 He knows his life is ruined from all the exposure, but it's way past the point of no return now. The only thing he can do is embrace it.  His family, co-worker, and all his friends have disowned him. He has no one. Exposure is all he has to live for.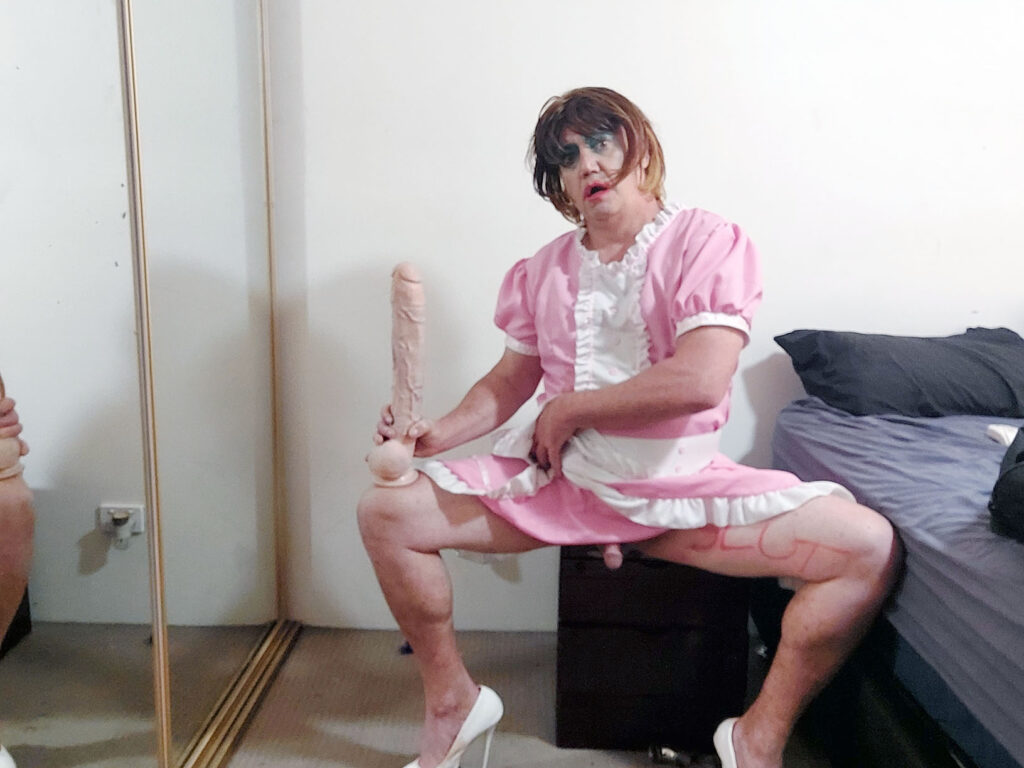 2016 was the year Sissy paul Greenwell contacted me begging for exposure, since then this pathetic bimbo has messaged me weekly begging for more and more.  This loser craves exposure like no one else, it's the only way he can get any attention LOL. He keeps wanting to be more ruined, but what he doesn't realize was that he was ruined from the first day he messaged me 😉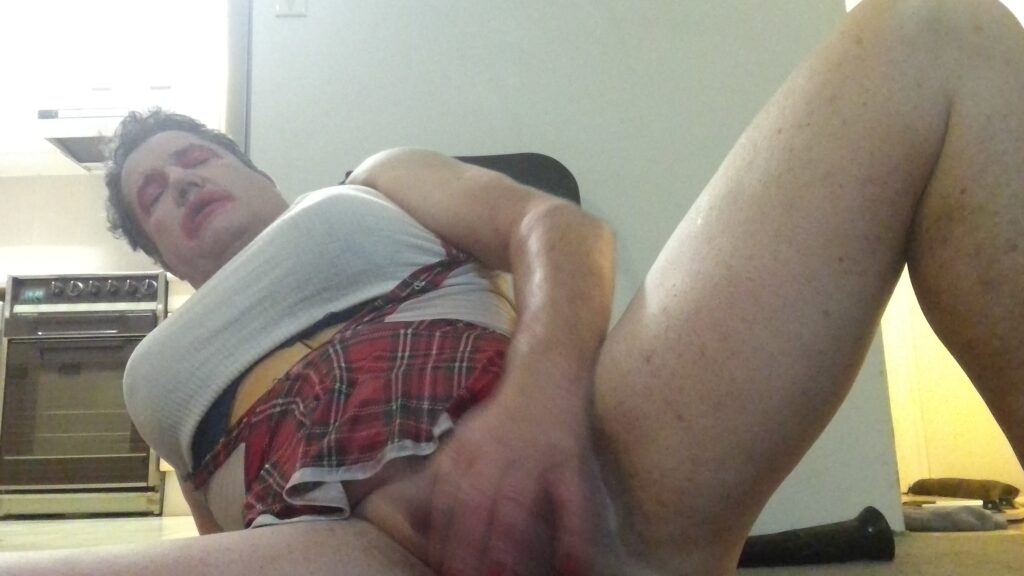 Every now and then, Paul Greenwell realizes the reality of what he's done. He realizes he has no friends and his family has disowned him. So he goes away for a few days, thinking it will all go away… but it doesn't. He's exposed as a faggot loser for the rest of his life.  So the only thing to do is to dedicate the rest of his life to becoming the most exposed sissy faggot on the planet.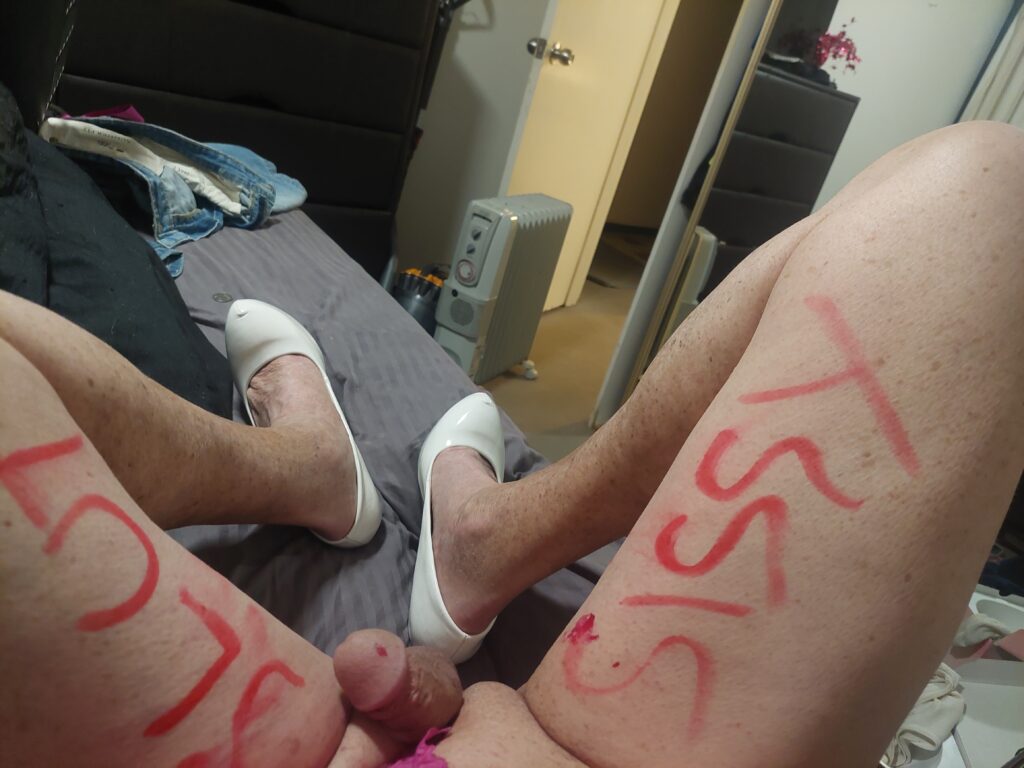 Sissy Sophie is the only faggot anywhere near Paul Greenwell's level of exposure and stupidity. It just so happens, Sissy Sophie the love of pauls life LMAO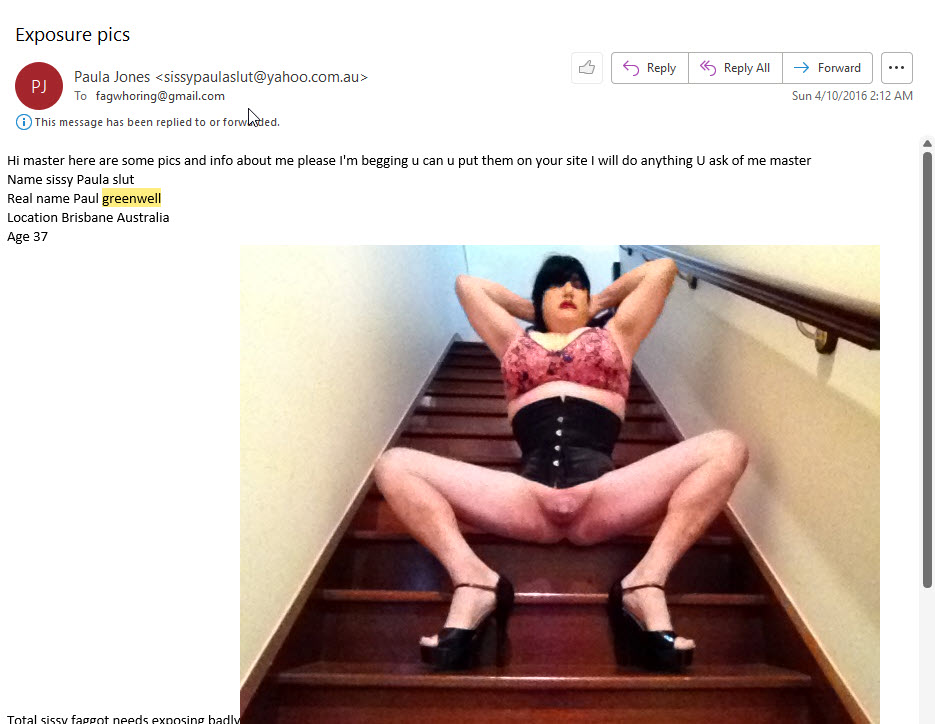 9 30am on Sunday morning this stupid dipshit is texting my phone begging for exposure.  (When you spend the best part of 10 years paying each and every week for exposure you get my personal number) I can already tell Paul Greenwell is going to crave exposure like never before this year, if that's even possible.
It's only been one week into the new year and this faggot is already making more pictures and videos to expose himself with. It won't be long before he's begging for his site paulgreenwell.com to go back online and start getting daily updates again. When it was up, just googling his city with his first name made his exposure site rank first! He was scared shitless of this. I don't know why, it's not like anyone gives a shit about this loser faggot. They will view his site and think oh not this attention-seeking faggot loser bimbo again. This dipshit is actually an IDOL to many fags on this site, they wish they could have this level of exposure but they either cant afford it or cant bring themselves to this level of stupidity LOL. But for Paul Greenwell exposure is life, without exposure life isn't woth living. This is an addiction he will NEVER break. Till the end of time, he's going to be dressing up as a sissy bimbo and fucking his asshole while watching sissy Hypno porn… oh and of course paying out the ass for me to post about it hahaha what a deadset loser
The most pathetic bimbo sissy loser the internet has ever seen. This faggot craves exposure like no other faggot. Exposure is legit paul greens well life…. well exposure and fucking his asshole with the biggest dildos he can find. Paul Greenwell will legit go weeks without human contact… fucking hiss hole watching Hypno porn. All his friends and family have already disowned him, so he doesn't have to worry about anyone he knows finding out.  He knows what a pathetic loser is, so it's no issue to him going broke paying for exposure. After all, who gonna spend any time with this bimbo if he doesn't pay? Every now and then he thinks about what he has done and regrets it. But within hours he's back rubbing his clit fucking his asshole craving exposure even more. This is a loop he will be stuck in for the rest of his life.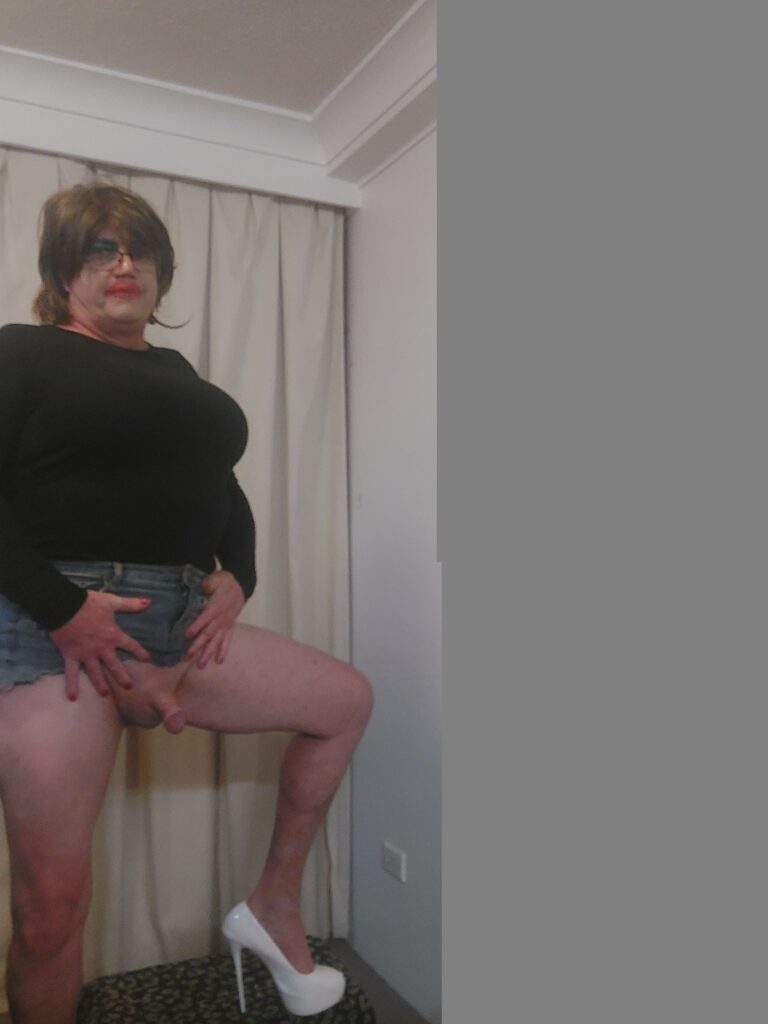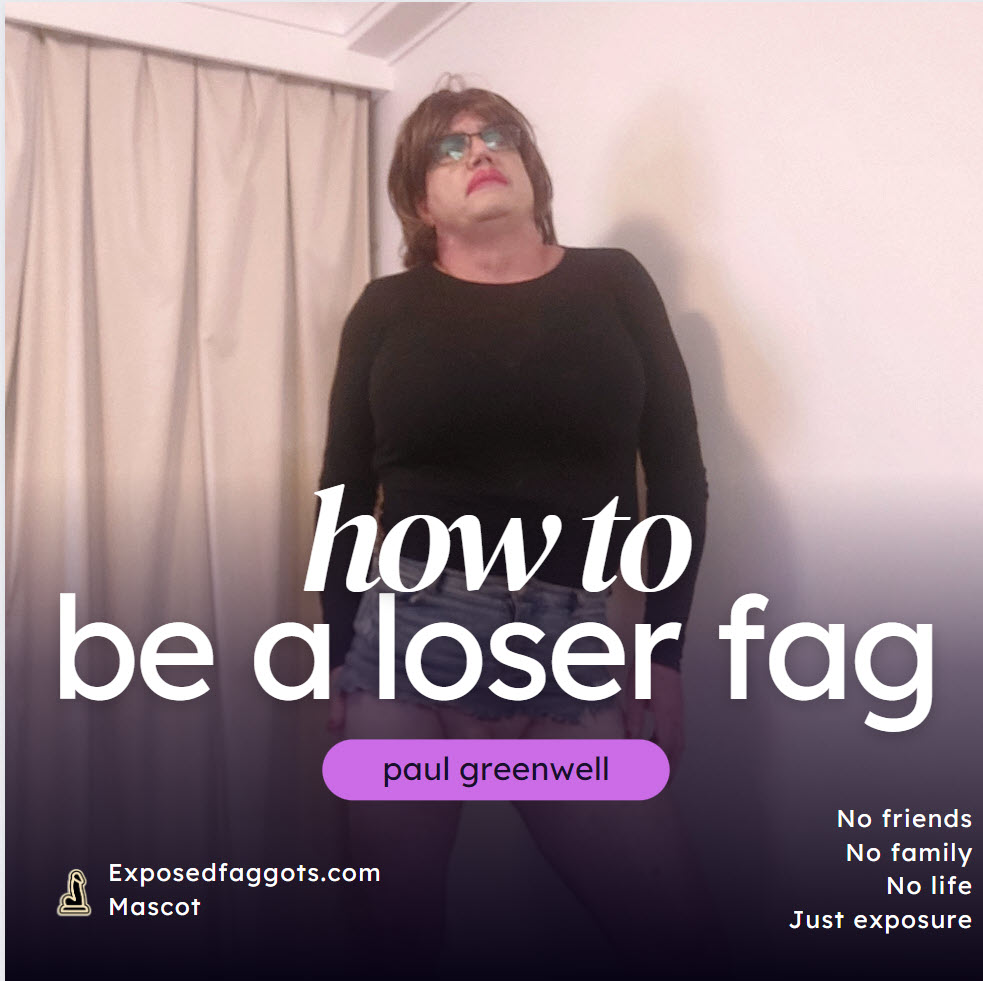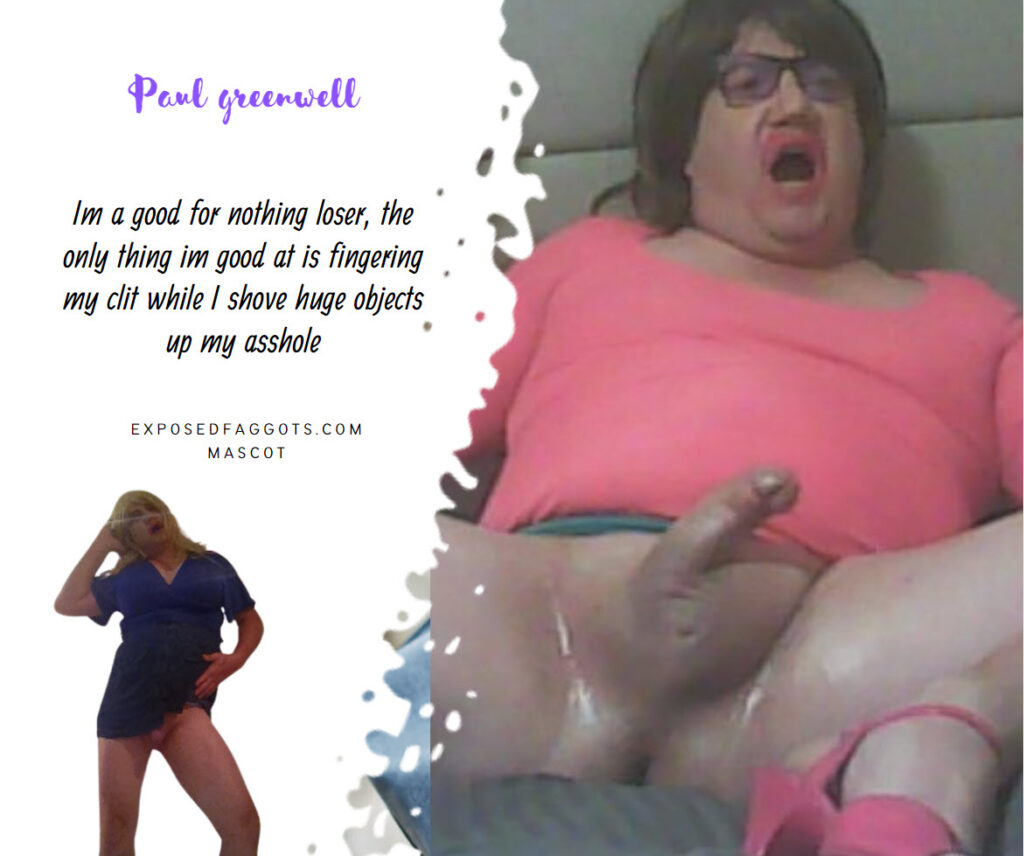 The official Mascot of exposedfaggots.com
Paul Greenwell is the dumbest fag you will ever see on the internet and he's proud of it! He knows he's a worthless bimbo slut, and embraces it. For days sometimes weeks all he does is rub his clit watching sissy Hypno porn waiting until payday. He knows no one will interact with him unless he pays them. Paul is suck a dumb fuck loser, and even paying sometimes isn't enough to get others to talk to him LMAO. He loves this, and wouldn't have it any other way. Exposure is his life, without it he's nothing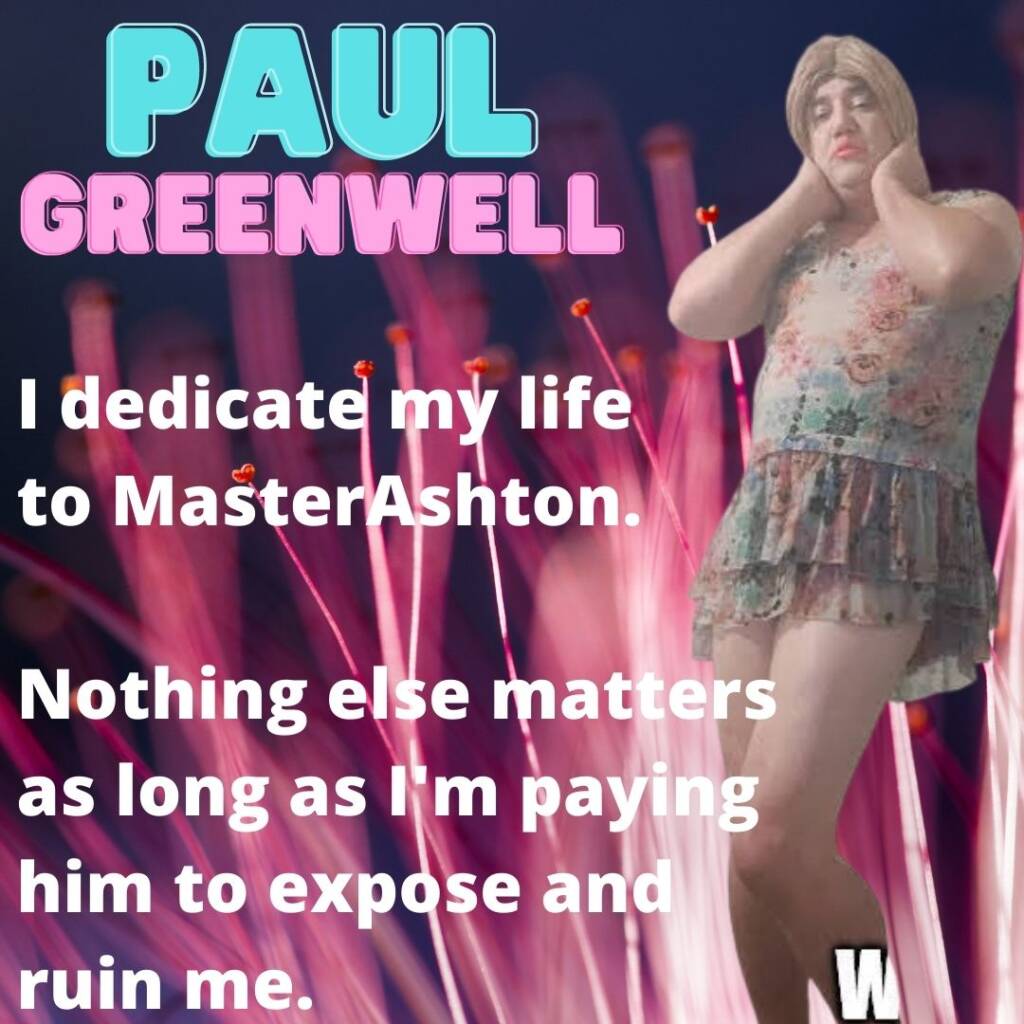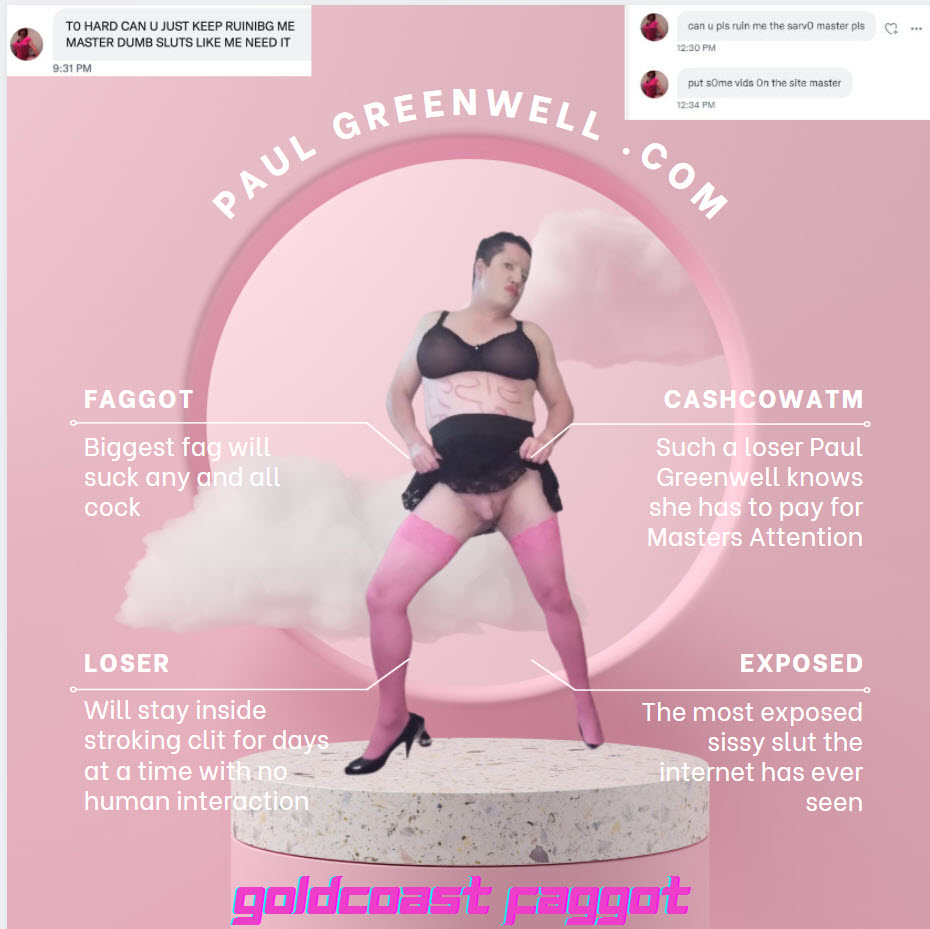 Paul Greeenwell
Paulgreenwell.com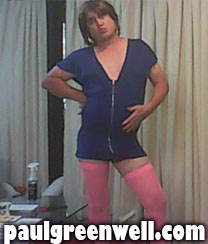 The internet biggest exposure addicted sissy faggot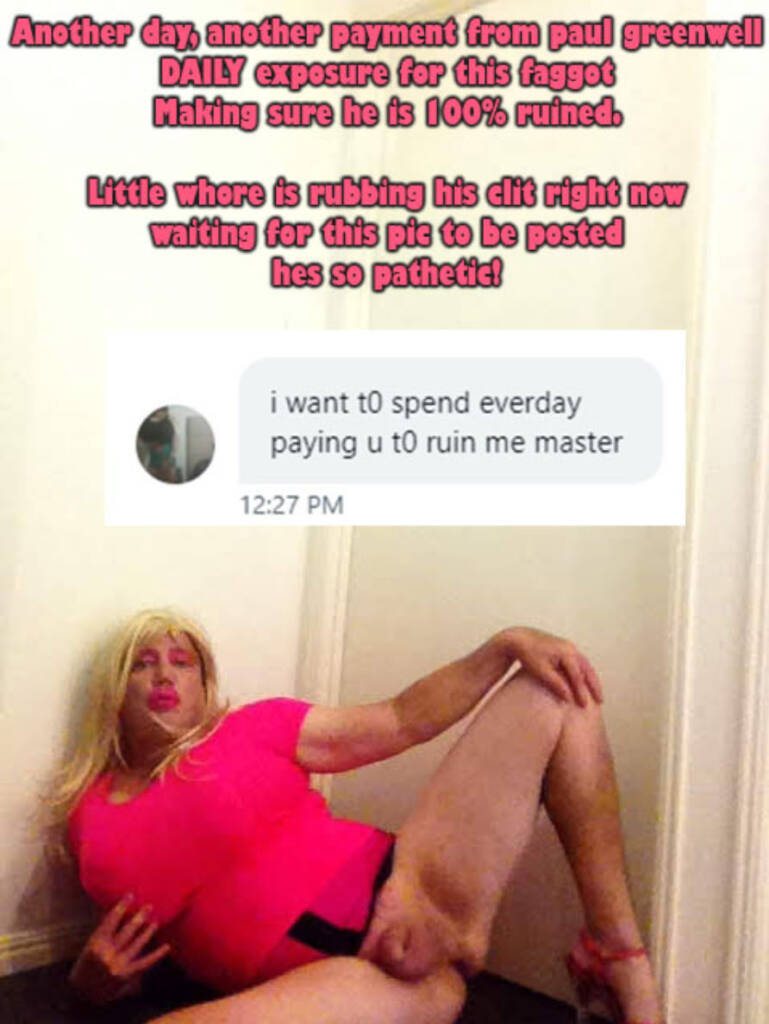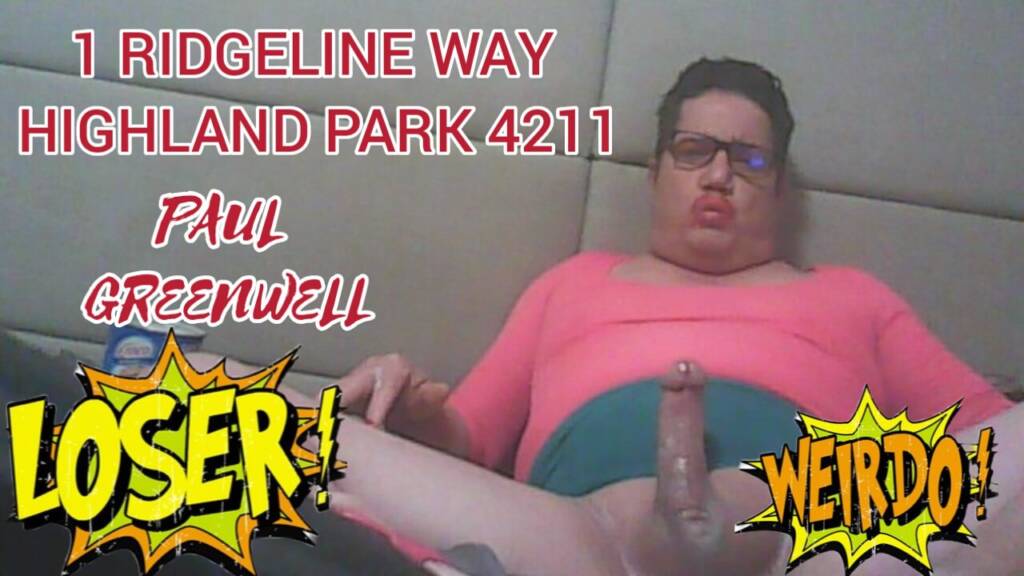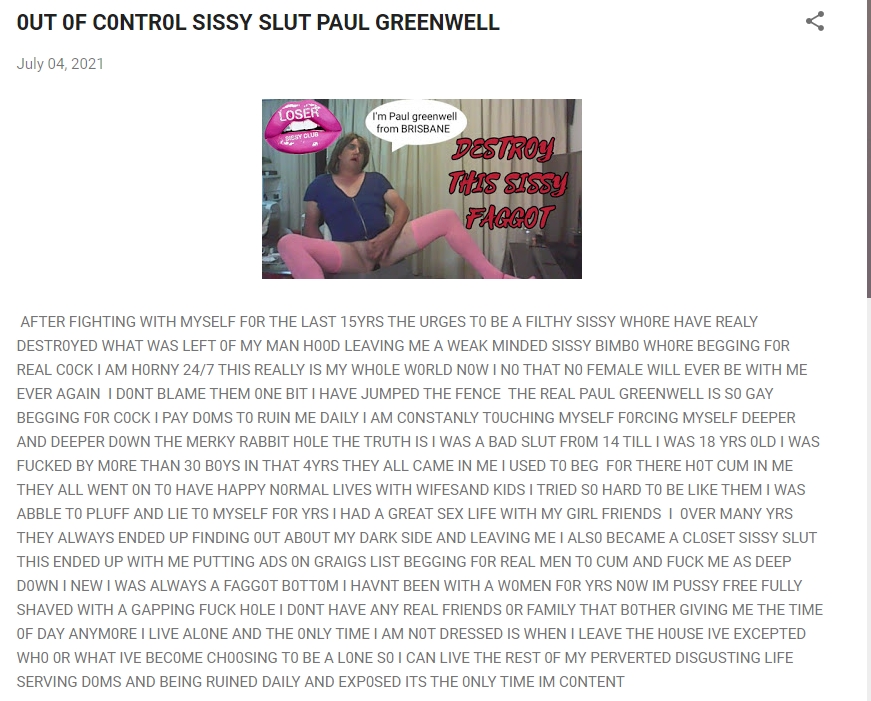 Paul is the most pathetic faggot on all of the internet, and hes proud of it! This pathetic faggot is addicted to jerking his cock, taking pictures of him looking like a sissy and ofcourse sending ME my fagcash.
He knows hes that pathetic that no one will give him attention, unless he pays out the ass for it, so thats exactly what this dumb slut does LMAO.