show less
show more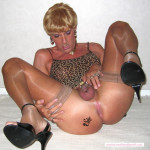 @rosettaswallow
Rank: Closet faggot
My Achievements:






Time to remember that it is Black History Month! Due to the Open Hole Policy of the Reparations Act all white sissy faggots are required to wear a QoS tattoo and offer their boipussy to the Superior Black Race upon request.
View
Base
Name

rosetta swallow
Personality Type
Address

NRW 80325, DE
City

Cologne
Age

22 – 27
Expose others?
Website

twitter.com: @fotzerosetta
About me

rosetta is a tiny limp dick sissyfaggot cocksucker und cumdump which is whoredout in the Cologne area,Germany.
This obedient cumguzzling bitchboi is locked and marked as future Black Property.
Here bitchboi is presented as jerk material. It craves the humiliation getting cumtributes from Black Alpha Men.
Email address
Exposure sites