show less
show more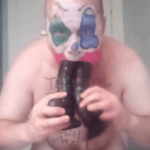 @sissyfaggotslave
Rank: Closet faggot
My Achievements:







Between Exposedfaggots.com and Sir Philippe my reputation has been destroyed. They are the best fag exposers around. my loser fag name, face and ass are plastered across the internet, with no way out – sucking cock, ating shit and drinking piss, wearing diapers and panties, licking public toilets, and being degraded in the most humiliating […]
View
Base
Name

MicroDick faggot
Personality Type
Address

USA
City

Philadelphia
Age

36 – 50
About me

i am a sissy faggot slave slut and
a panty-diaper pansy, micro-clitty bimbo bitch. i am short, fat, bald, impotent, and pathetic in every possible way. Please laugh at me. Degrade and humiliate me. Mock and ridicule me. i am a complete, total, undeniable loser and an absolute cum dump, cock-riding, dick-sucking, sperm-guzzling , queerbait freak.