show less
show more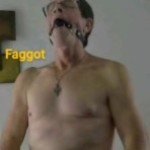 @slavegriffin
Rank: Newbie fag
My Achievements:






This slave is in the process of self improvement for my future owner. Everyday its stretching, exercise, and cum control.
View
Base
Name

Mike Griffin
Personality Type
Address

507 e. Hickory st. IL 60921, US
About me

I feel erotism when humiliated by hot, alpha male studs. They've always singled me out of crowds to demean and I like it. Now my sexual appetite is only satisfied on my knees in the service of these alpha males. The superior being ordained to rule over an omega pig like me.
Email address
Exposure sites

Fetlife