show less
show more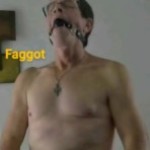 @slavegriffin
Rank: Closet faggot
My Achievements:






A slave not in use is put away. Incapacitate and take all independent rights, actions, and freedom so when the Lord Master wants it, that time becomes everything to the slave.
View
Base
Name

Mike Griffin
Personality Type
Address

507 e. Hickory st. IL 60921, US
Age

36 – 50
About me

I feel erotism when humiliated by hot, alpha male studs. They've always singled me out of crowds to demean and I like it. Now my sexual appetite is only satisfied on my knees in the service of these alpha males. The superior being ordained to rule over an omega pig like me.
Exposure sites

Fetlife