I am a sissy faggot fuckpig (henceforth known as fagpig) and a humiliation slut known as a mere object for alpha men's desire.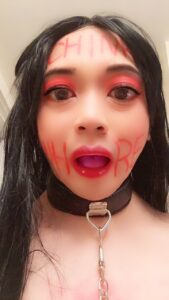 This fagpig's height is 5'5"(165cm), weight is 146lb(66kg). Its pathetic clitty is barely 3" when hard (back in the days when it can still get hard), and about 1.5" when limp. Its useless, tiny, limp and locked up clitty has never been near a female, much less used at all. Fortunately its shameful clitty is now safely locked in chastity since November 2018. Since then, this fagpig only allowed three orgasms through anal, only for the owner's amusement. This fagpig does not deserve any pleasure, as such, it vows to never allowed orgasm unless it is for its owner's amusement. This fagpig's clitty is limp and dead. It will never have erection again. This fagpig was never a man, and it will always be a total and complete faggot fucktoy for the pleasure and amusement of real men.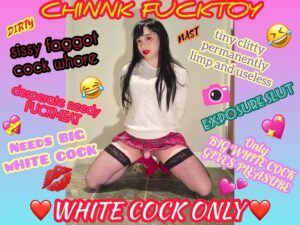 This fagpig has been serving white men since 2011. In the presence of white men, this fagpig has no dignity, no will and no shame. This fagpig only live to serve white men and be their fucktoy. This fuckpig loves to be abused and degraded by real men.
This fagpig desires to be an entertainment and amusement to all white men and it craves for all its pictures and videos to be wide spread online so that more real men can be amused by this pathetic fagpig. As such, all pictures and videos are free to be redistributed, reposted or reused.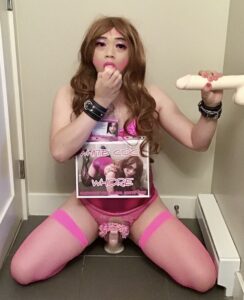 Fagpig agree without any condition that any photograph, posters and videos of this fagpig can and will be made available for the public domain.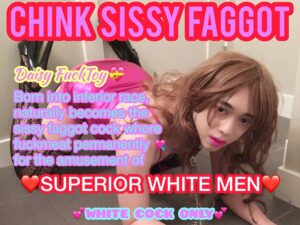 Fagpig also agree and understand without any condition that any photograph, and videos of it can be copied, posted and spread on any website, forum, blog or any other places. This also include public exposure IRL for those who wish to do so.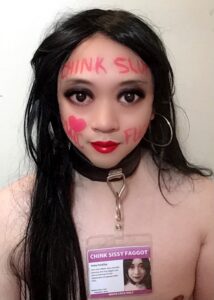 Fagpig also state that it is its wish to, even beg to be spread, exposed and outed with no limitation, both online and in public areas.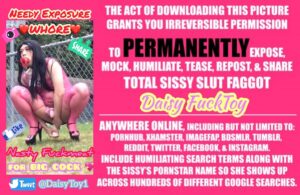 Fagpig understands that its reputation will be tarnished and may be permanently destroyed once this post is made available on Internet.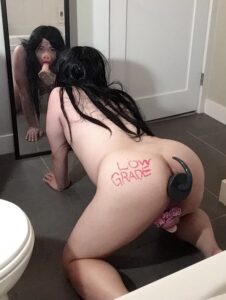 Fagpig's decision is final and can not be reversed. All its media belongs in the public domain and it withhold all rights for them, meaning it cannot claim any private ownership of its pictures and videos.
Please contact this fagpig to laugh at and humiliate this fagpig. Please!!
fagpig – DaisyFToy