show less
show more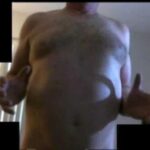 @chubbyslave
Rank: Cock sucking faggot
My Achievements:







[bpfb_images] 5227_0-73990600-1643748714_5482bf7d-f172-41cf-aed3-1ddf9600d979_900_4240n1a1.jpg [/bpfb_images]
View
Base
Name

JACK MINNOW
Personality Type
Address

Wilmington NC 28403, US
City

Wilmington, NC
Age

50+
About me

You may not be able to expose me…but you can ORDER ME to do this and make me post ANY photos of me that you want me to do from scratch… or contact me outside of here at my email to make me do more.  There will be no exceptions to your needs.

And yes, as long as I am NOT ordered to expose myself yet (face and all), I will enjoy watching others humiliate themselves to the fullest, face and body, even if they show ID too. 🙂

I am white 6ft 228 64yo 4″erect in North Carolina.

Outside of here, for more power to destroy my dignity or have complete power over me, you can reach me at jmin00@protonmail.com.

Destroy yourselves and ruin—for now I am enjoying those who do it—until my day will come soon either in person or thru online destruction.