show less
show more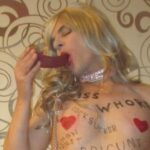 @vickifag
Rank: Exposed Faggots Mascot
My Achievements:








I'm just an utterly ridiculous pathetic Fairy Faggot Cum-Princess, a weak effeminate Sissy Whiteboi Cockwhore. I crave for humiliation and relentless abuse, all I'm good for is being an inferior easy Gay Fuckmeat Cumbucket for Real Alpha Males. Please spread and shame me, blackmail me cruelly and totally ruin me forever. I really need and deserve it, lol
View
Base
Name

Niels Grassl
Personality Type
Address

Krumbach 86381, DE
Age

36 – 50
Website

sissydumbslut.bdsmlr.com
About me

I'm Kitty Cunt Vicki, a dumb pathetic little sissy faggot slut with a tiny, permanently limp clittie, totally inadequate and unable to ever satisfy a girl. My weak dainty body, my long blond hair and my effeminate behaviour determined me to become a homo cumbucket, just easy gay fuckmeat for every Alpha Male. The moment I started to dress up in frilly girly outfits and let have guys relentlessly abuse my greedy cumholes, I irrevocably lost the right to ever call myself a man again. I'm addicted to the humiliation and embarrassment to get completely dominated, despised and harshly mocked, feeling totally helpless, inferior and low turns me on so much. Merciless public exposure, rough abuse and self-debasement is all I'm good for and deserve. I suck every horny pervs cock, lick his sweaty balls, greedily gulp down his hot sperm and piss, and devotedly tongue his asshole, no matter how fat, hairy or old he is. My wet boicunt is free to use for everyone, I'm public fuckmeat. Please treat me as you like, spank my useless whoreass or my dumb cuntface, have fun gang-raping me or just lead me around on a leash, totally naked and exposed, for the laughter and amusement of everyone.