Someone helped me realise the sissy slut I'am so I want to show everyone that I'm willing to embrace the fact that I'm a sissy slut, signing and hereby presenting this oath, with pics showing the real sissy I'am.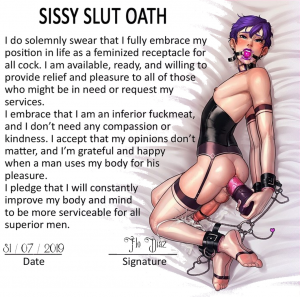 As Justin Kase say I'm surely a brat, but most important I'm a sissy slut that craves for humiliation and a real alpha male dom that put me in my place and not let me go.
I'm maybe not obedient, not the Lil doll losers mall look for, I'm perverted, twisted and crazy. But I know you real male love bad girls.
As a small dicked with guy I'v completely failed as a man and Justin showed me how good it is to feel that dirty Lil slut. Let's continue this and achieve the ruining of the remaining of what I used to call manliness in me.
Here is my mail address, florentdiazgilles@gmail.com and my Skype Flo Diaz.