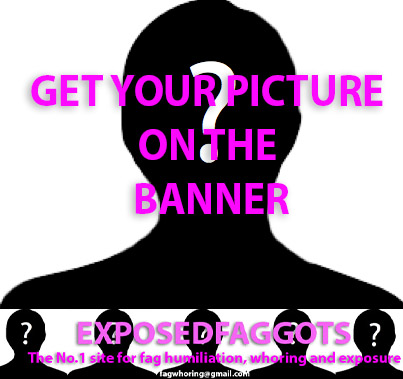 BANNER SPOTS UP FOR GRABS
(THESE ARE NOT FREE)
UPDATE 3 SPOTS LEFT
The exposure got too much for some fags on the banner, they paid the removal fee to leave the site. Now YOU have the chance to take their spot!
The banner is shown on every single page of the site. Having your fagface on the banner is the most exposure you can get!
Not only will people be seeing your picture when they first visit the site, but no matter what page they go to, whatever picture you select to have on the banner will be displayed!
This easily adds up to 35 000+ views each and every week!
There is 5 spots on the banner up for sale!
There is no set price for the spots. Instead I take the first DECENT offer someone gives me.
Naturally the first spots will go cheaper, then as there is less left the price will go up.
The spots on the far lest with no text over it, will come with a higher price then the others.
Your image will stay on the banner till at least the end of the year.
Payment methods accepted
Ppal – depending on your country.
Amazon.com.au giftcards
bitcoin
Interested?
All offers are in USD to submit your offer
Comment on this post
Send me a private message on this site
email me: [email protected]
%100 of the money made from the banner spots goes back into the site.
Paying the hosting fee for your thousands of fag images (not cheap) and hiring developers to create new features that my level of skill cannot accomplish (also not cheap)