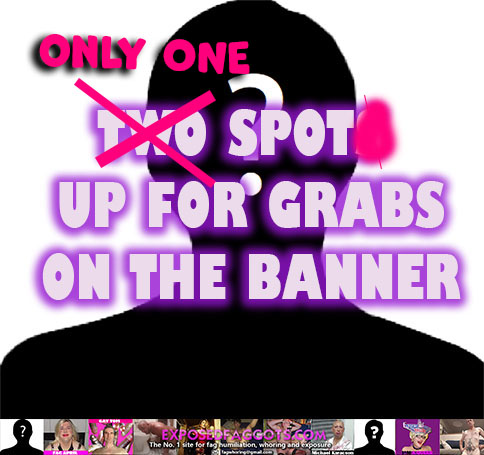 DO YOU CRAVE EXPOSURE?
Due to fags time on the banner coming to an end there is now one available spot on the MAIN banner
If you're a faggot that really truly craves exposure, and you spend most of you're free time adding to your exposure.  Getting on the banner is one of the best things you can do!

Not only will the banner be seen on the homepage, by far the most popular page of the entire website, but it will also be seen on EVERY OTHER PAGE.
Imagine someone who knows you stumbling across the site, and then they see your face plastered on the banner LMAO, dream come true or nightmare? Either way, im sure it will get your dick rock hard!
No matter whose exposure someone is looking at, no matter what page, what gallery they are looking at your fag face will ALWAYS be visible
WHAT CAN YOU HAVE ON THE BANNER?
This is a prime spot, meaning no text covering the image.
You can choose any image you want on the banner, and you can have your name or alias on the picture
HOW TO GET THE SPOT
These spots are not free, and the money made from the spots will go directly back into the site's fees. Hiring developers and paying hosting!
Spots on the banner are normally sold per year, meaning your picture will not be removed for an entire year.
Contact Admin MasterAshton in the live chat, or email fagwhoring@gmail.com with your highest offer in USD
Link to Admins profile here
PRICE
There is no set price for the banner spots. I take the first decent offer I get. The first spot will be cheaper than the second spot. So get in fast for the best price.

IMPORTANT
BE CAREFUL OF SCAMMERS
Admin MasterAshton is the only person on exposedfaggots.com who can sell you the spot.
And fagwhoring@gmail.com is the only email I will use.
When you are talking about anything to do with money make sure you are talking to the correct person.
I will NEVER call or text you.
i