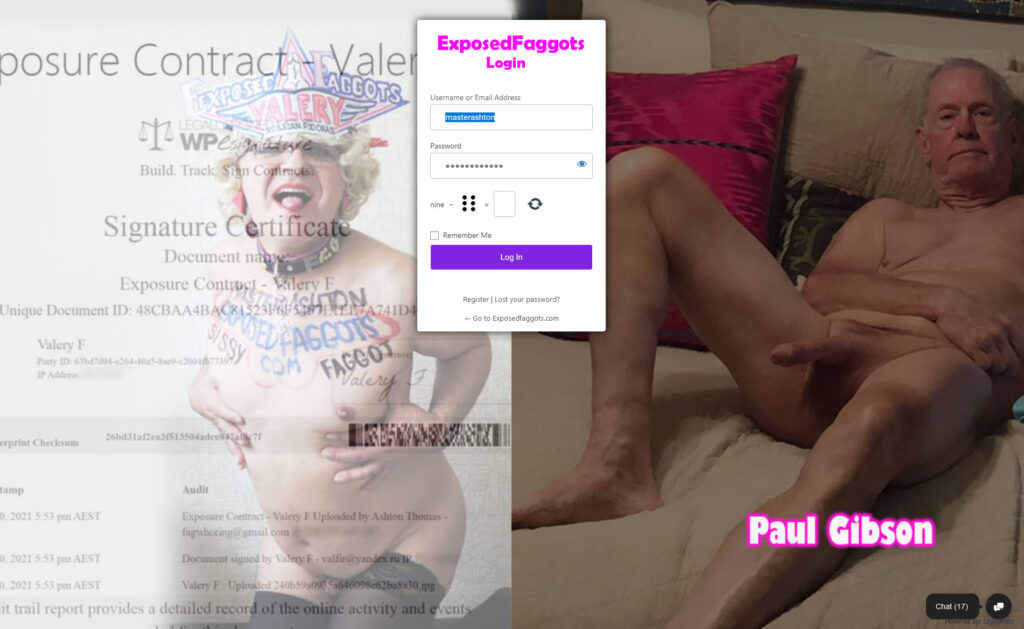 Get featured on the login page, next to Valery!
Paul Gibson's time is up, now it's time for another faggot to take his place on the login page! Every time someone logs into the site, they will see your picture with whatever text you choose!
WHAT CONTENT CAN YOU HAVE?
You can have any picture you want, naked or clothed. Obviously, the picture must be of yourself! You can also have any text you want. Since it's the login screen, there is room for more than just your name.
Maybe you want your address or some contact info as well 😉
HOW TO GET THE SPOT
This login spot is not free, and the money made from the spot will go directly back into the site's fees. Hiring developers and paying to host the site!
Featured spots like this are normally sold per year, meaning your picture will not be removed for an entire year.
Contact ADMIN on this site directly via private message or live chat. Link to profile here
Or send Admin an email with your best price in USD
fagwhoring@gmail.com
PRICE
There is no set price for the login spot. I take the first decent offer I get. So get in fast for the best price.
All prices are must be offered in USD

IMPORTANT
BE CAREFUL OF SCAMMERS, I WILL NEVER CONTACT YOU FIRST ASKING YOU TO PURCHASE THE SPOT.
IF YOU WANT THE SPOT YOU MUST CONTACT ME. EITHER ON EXPOSEDFAGGOTS.COM OR VIA FAGWHORING@GMAIL.COM.

IF SOMEONE EMAILS, CALLS, OR MESSAGES IN ANY WAY OFFERING YOU THE SPOT, IT'S NOT ME AND IT'S A FAKE.

i