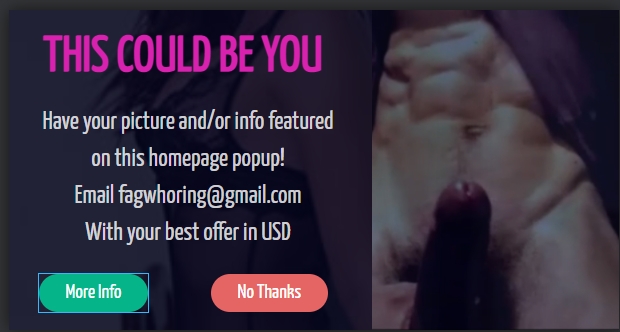 This popup will display to everyone that visits the homepage of the site at least once per day! 
The homepage is BY FAR the most viewed page of the entire site. Getting up to 10 000 visits PER DAY.
Having your picture popup with your details and a link to a more detailed exposure of  you is by far the most exposure exposedfaggots.com can offer!
OPTIONS
There is two ways to set the popup.
So that is shows to a person once per day,
or so that it shows every time a user visits the homepage.
The more annoying (obtrusive) the popup is to other members, the more you pay. So the latter option will be the most expensive.
You are able to have any picture you want on the popup, and have it link to any exposure or any other website you would like.
PRICING
The price depends on how long you want it, and how often you want it to popup.
Faggot who comes to me with the first decent offer will get it!
To make an offer either talk to me in the live chat (Admin Masterashton), send a private message to my profile here or send an email to fagwhoring@gmail.com
All offers are in USD.
100% of the money from the popup will be put back into the site, paying hosting and hireing developers to create new features for you faggots!
Warning
BE ON THE LOOKOUT FOR SCAMMERS, IF YOU WANT THE SPOT YOU HAVE TO CONTACT ME FIRST. I WILL NEVER CONTACT YOU FIRST ASKING YOU TO PURCHASE IT
IF SOMEONE CONTACTS YOU, ASKING YOU TO PURCHASE THE POPUP IT IS NOT THE REAL ADMIN
PAYPAL IS NOT ACCEPTED