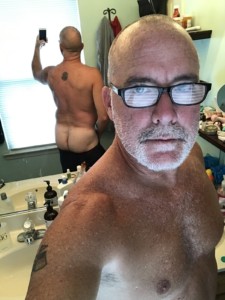 Just a selfie to show what I have to offer.  Choose which hole you want to put your cock/cum in.  You're welcome to try out both before you make a decision.  And if you have a friend, bring him along and use both holes at once.  Hit me at nolajimmy on kik and/or gmail to arrange something – either in person or virtual.  Happy to take pics and vids by request.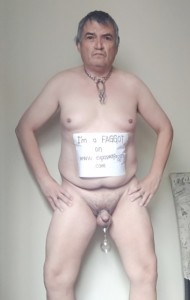 Antarespasdf exposed with dog collar and penis chain! I like to eat cum and drink piss. Also a scat eater servicing my masters! I like to be tied and abused by several males in gangbangs! My asshole is loose now due to so much fucking by my masters! I like to be used as a human toilet and urinal for several masters who can fuck my face too!
I crave exposure almost as much as I love cock! I literally just want to be blackmailed into being feminized to the point my dick is the size of a clit, and learn to sissygasm. I love sucking cock so much and want bent over so bad! The feeling of being another mans bitch turns me on so much, I literally leak Precum the second I feel their delicious cock slip past my lips. I love feeling them bust their load down the back of my throat so much I don't want to stop sucking them! I love humiliation. The picture of me smiling and laughing, was because he told me he was sending videos to friends, and recording me live online! I came instantly in my pants and literally sucked his cock nearly an hr, when he came for a 3rd time! Please expose me!
I'm a dinky dick fag seeking exposed and humiliated and used hard.  Google image search for justin peterson exposed naked fag for more pics and info to use against me today please. Make me a laughingstock wherever I go? Laugh as my reputation is destroyed online and in print?.
I give up all rights to all images you find of me here or on the net.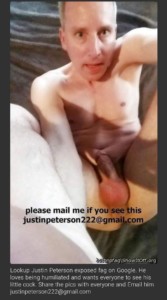 AFTER LONG TIME OF SILENCE IM BACK AGAIN TO SHOW UP MY FAGGOT ASS AND HOW I CAN BE DUMB. MY GREATEST WISH IS THAT SOME PEOPLE IN MY TOWN SAW THAT EXPOSURE AND TELL ME THEY SAW THOSE DISGUTING PICS AND VIDEOS. I AM SO PROUD TO BE EXPOSED LIKE THAT AND BE IN THE REAL FAGGOTS COMMUNITY. HOPE YOU SHARE THIS EVERYWHERE.
Sissy slut dez bottom slut cam girl likes to be on knees likes to go out have fun likes to go to clubs likes to make video and be in video looking for a cam partner likes to please bottom girl likes to dance strip and anything that pleases daddy it's nice to be exposed and have guys jerk off to my pics
Rick is a panty wearing faggot with a nice ass who loves to be exposed.  A perfect bubble butt that gets passed around at parties where his only job is to get guys off.  A total Fag who wears booty shorts to parks and parking lots servicing men cruising the trails and in sitting in their cars.  KiK this faggot for more pics to expose.