show less
show more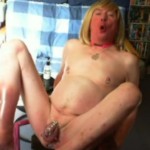 Private Group
active 9 months, 1 week ago
This group is for all sissies and faggots who whether by choice or obedience choose chastity.
This needs to be an private group with the restriction of no masters/mistresses so we can discuss what is working and whether keyholder tributes are really worth it ( to line some pockets *sigh*).
We would have straw polls to know what's working and what sucks… your group as much as mine!!!!
This is a private group. To join you must be a registered site member and request group membership.