Hy,
I decided that its time to show my real ID.
Proof that its realy me. Accept that Im a little bottom fucktoy for men, and i realy like it *g*
I will make more pics in the future, maybe even some realy naughty ones ;o)
In the meantime have fun !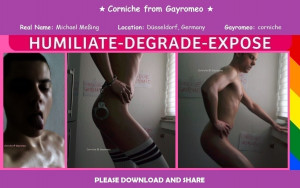 Real Name: Michael Meßing
Location: Düsseldorf, Germany
Gayromeo: corniche
Check: https://cornicheatgayromeo.bdsmlr.com/