How sad that my worthless nub of a cock didn't win the tiny dick contest.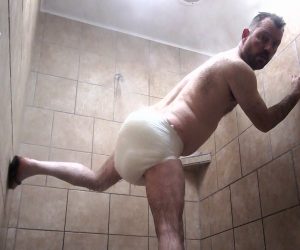 Violating a public shower with my piss-soaked diaper.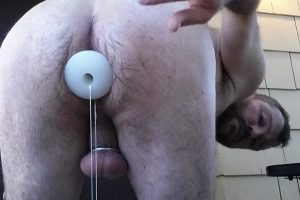 Massive plug showing why sometimes I actually NEED to wear diapers.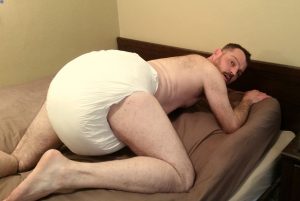 Perhaps my best-known pic. It's humiliating enough just on the surface, but even more so if you know the details:
-The diaper was made with 15+ layers of ripe, piss-soaked diapers saved from previous layered diapers.
-My tiny cock had been locked in chastity for a couple weeks.
-I had been stretching & filling my ass for a few days, working my way up to bigger & bigger toys.
-I was desperate for anal violation and public humiliation- weeks of chastity had left me extremely horny, and my only outlets were ass-stuffing and diaper-humiliation.
-I had filled my ass with a liter of thick J-lube and a full jar's worth of frozen Vaseline, rolled into golf ball-sized gobs that I had pushed deep inside with a huge dildo.
-I took a toy that I had never been able to use, an XXXL Square Peg Egg Plug- 10 inch circumference
-Horny desperation & a well-stretched ass drove me to shove that monster plug up my ass. Somehow I took it.
-It filled me up like I've never felt before. Rather than straining to expel it, my ass simply gave up. I couldn't have pushed it out if I tried.
-I did try, of course. While I leaked gobs of J-Lube and Vaseline, the plug wasn't going anywhere.
-I spent close to an hour grinding my locked cock against my diaper, in a futile effort to get off.
-I failed to get off of course, and the massive plug had me breathless and my mind-blown.
-It was the best "sex" I've ever had.
Being exposed as an Adult-Baby is extra humiliating.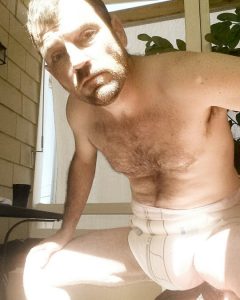 As are pics where I stare into the camera, acknowledging that I an a diaper-fag.